Foam Delivery Options - UK Foam Delivery
Delivery of Your Foam Order
Here at GB Foam Direct, we strive to process and ship all our customers' orders as quickly and as efficiently as possible. We understand that time can be of the essence when ordering foam and as such make it our priority to rapidly dispatch your order. Providing your item is in stock, we can usually dispatch your order for delivery on the next working day if you order before 11:00 AM Monday – Thursday. This, however, is subject to delivery zones. Below you will find details on all our delivery zones including pricing and delivery estimates.
Please note that Saturday deliveries are possible inside Zone 1, however, this will incur an additional charge of £10.
Zone 1 = Next Working Day
Zone 2 = 24-48hrs Delivery
Zone 3 = 48-72hrs Delivery
Zone 4 = 48-72hrs Delivery
Zone 5 = please contact us for a quote
Worldwide Foam Delivery
Zone 5 includes areas outside of the displayed diagram. We're more than happy to ship our orders to countries abroad, however, please ensure that you contact us prior to purchasing, in order to confirm additional details. Should you forget to do so, we will contact you directly in order to confirm that you agree to these details before shipping your order.
The Map explains our delivery Zones and related costs.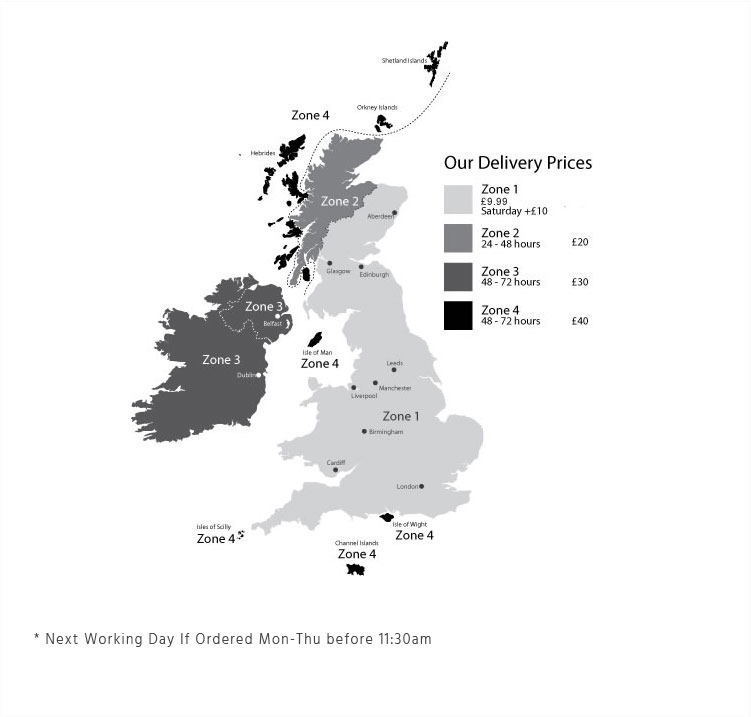 Where's my Foam?
The courier service we generally use is DPD and you can view the most up to date tracking information on the DPD website. Here you will be able to view when your order arrives at the depot if your parcel has been loaded out for delivery, who signed for your order or who your order was left with. If your order does happen to be shipped with a different courier, we will inform you of this directly and you will be able to view any tracking information respectively on the courier's website.
Simply click on the link to be redirected to the DPD website and enter your order details. This includes the account reference (01483275) and your consignment reference (the order reference which was given to you after making your purchase.
You can also call DPD's customer service line on 0121 275 0500 if you are unsure about any of the details displayed. Please ensure that you have the account reference number and your order number ready before calling this number.
What If Nobody Is Home to Accept My Order?
DPD require a signature upon delivery, so if there is nobody at your place of residence to sign for the package, the driver will leave a card to let you know that they couldn't complete the delivery. This card will include details on how to re-schedule your delivery via the DPD website if this was the first attempt at delivery.
You can also request that the DPD delivery driver leaves your order with a neighbor. To do this simply call the DPD customer helpline on 0121 275 0500 and quote the account reference number and your order number.
How Do I Reschedule My Foam Delivery?
You can reschedule a delivery or instruct the driver to leave your order in a safe place via the DPD website. Simply enter your postcode, order number and account reference number into the website and follow the outlined steps.
My Foam Delivery Package Arrived Damaged/There is an Item Missing
Please ensure that you fully check the package before accepting it from the courier. You should check for outer damage to the packaging. If you do happen to notice significant damaging to the packaging, please either refuse the delivery or sign for it as damaged. If your order has been damaged please contact us immediately so that we can provide you with a solution.
Special Conditions for Foam Courier:
*Zone 1: We can't guarantee your selected date for delivery will be successful, however, the courier service that we use currently delivers on the selected date 98% of the time.
*Zone 2: The displayed 24/48 hour arrival time is approximate, however, this will be accurate in the majority of cases.
*Zone 3 & 4: These delivery zones often takes up to 72 hours for orders to arrive. Regrettably, it is impossible to guarantee a specific date of arrival.
*Zone 5: Please contact us prior to making your purchase in order to confirm current delivery timescales and pricing.
All of the delivery estimates that we at GB Foam Direct give, are made in good faith. We endeavour to dispatch all orders to these given timescales, however, we cannot be held responsible for any loss of time or money resulting from delays, missed or incorrect deliveries carried out by our third-party couriers, as this is beyond our control. We are unable to accept liability for any loss of profit or indirect losses as a result of these circumstances.
I Want to Contact the Carrier
If you would like to contact the DPD customer helpline then please call 0121 275 0500 or visit their website.
Why Choose GB Foam For Your Foam Cut To Size?
Our factory is equipped with the latest CNC cutting technology and throughout the years we have employed the most talented freehand foam cutters in the industry. Many members of the team have worked for the company for several decades and their attention to detail and quality control is something that only comes with years of knowledge and experience.
We have many customers who started with us in 1976 and are still working with us today, which we like to think reflects on our vision to be the most dynamic foam converter in our industry. For us no job is too big or too small. We offer the same level of service and delivery whether you are a retail customer ordering one piece of foam from home, or a large manufacturer ordering daily.

40 Years In BUsiness
GB Foam have been offering foam cut to size from our factory since 1976.

Hand Made In THe UK
We employ the most talented freehand foam cutters in the industry.

ISO 9001 Quality
Our team work to the ISO 9001 quality standards to guarantee only the best

Super Fast Delivery
All orders placed before 11:00am will be despatched for next working day delivery

5 Year Guarantee
Our foam comes with a 5 year guarantee against faults in manufacture.

Flame Retardant
Our entire range of foam exceed UK safety and flammability standards.