Pit Foam - For Gym Pits, BMX Pits, Trampoline Pits & Parkour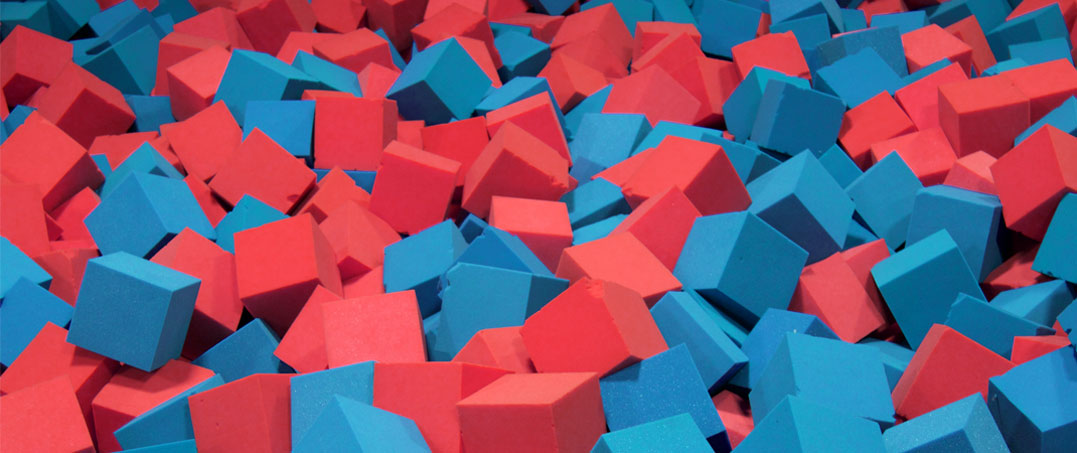 We specialise in the supply and renewal of gymnastic pit foam including gym pits, crash mats and bespoke designs.
We have a lot of experience with Gym Pit foam, offering a replacement service for over 30 years. We continually work with a number of Gymnastic Clubs, trampoline parks, skate parks and Local Authorities to provide them with replacement pit foam.
We have worked alongside some of the largest gymnastic clubs in the UK to provide them foam for not only new and replacement Gym Pits, but also for crash mats, landing mats judo mats and a variety of other foam products.
For large orders, you may want to contact us directly. Make sure you have your dimensions and sizes to hand, as we may be able to offer a special discount for large or bulk orders.
Whether your requirement is large or small we can help, we have a very good online foam calculator for Gym Pits – you simply need to enter the dimension of your Gym Pit and our calculator will tell you how much foam is required and the various options. (Budget Foam, Standard Foam, Premium Foam etc.)
Order Gym & Sports Foam Cut to Size -
Step 1

1. Select Foam Shape Below
Choose which shape most closely matches the type of foam you are looking to replace. Cant find the exact shape you are looking for? Why not view our full range of foam shapes.
Gym Pit Foam Calculator – Bulk Discount Applied
Are you looking to completely fill or add life to your existing gym pit? Use our gym pit foam calculator below.
We stock a wide range of foam for all your requirements, whether that is Gymnastic Foam Pit, Trampoline Parks, Motorcycle/BMX Pit, Skateboard Pits or a bespoke requirement. All of our foam meets strict UK fire regulations and are all Fire Retardant. For more information on the various gym pit foam grades visit: www.foampits.co.uk
Why Choose GB Foam For Your Foam Cut To Size?
Our factory is equipped with the latest CNC cutting technology and throughout the years we have employed the most talented freehand foam cutters in the industry. Many members of the team have worked for the company for several decades and their attention to detail and quality control is something that only comes with years of knowledge and experience.
We have many customers who started with us in 1976 and are still working with us today, which we like to think reflects on our vision to be the most dynamic foam converter in our industry. For us no job is too big or too small. We offer the same level of service and delivery whether you are a retail customer ordering one piece of foam from home, or a large manufacturer ordering daily.

40 Years In BUsiness
GB Foam have been offering foam cut to size from our factory since 1976.

Hand Made In THe UK
We employ the most talented freehand foam cutters in the industry.

ISO 9001 Quality
Our team work to the ISO 9001 quality standards to guarantee only the best

Super Fast Delivery
All orders placed before 11:30am will be despatched for next working day delivery

5 Year Guarantee
Our foam comes with a 5 year guarantee against faults in manufacture.

Flame Retardant
Our entire range of foam exceed UK safety and flammability standards.
Gym Pit Foam Recycling and Delivery
We have our own fleet of vehicles and can be very flexible with delivery – in addition, we do offer an old foam collection service which allows you to dispose of your old gym pit foam safely. We recycle 90% of all gym pit foam we collect. Please note, we are unable to recycle graphite foam.
Bespoke Pit Foam Requirement
We understand that in many cases the specialist requirement for Gymnastic and sports foam can be a bespoke design, we have worked alongside a number of leading gymnastic clubs to create entirely bespoke solutions for them and are happy to include this service within our prices to all customers. If you are not sure what you are looking for or you have a bespoke requirement, please do give us a call and we would be happy to discuss it with you.
Post Protectors, Impact Protection and Other Sports Foam
We have also worked with a number of Football and Rugby clubs to create foam post protectors and impact protection for their training needs. Along with a wide variety of sports related foam products. If you have a specialist requirement for foam in sport please do give us a call.
How A Foam Pit Can Benefit Your Business

Whether you own a gym, a trampoline park or something of the extreme sports variety, investing in a foam pit is something to seriously consider. Foam pits are not fun, they're and incredibly versatile. Sure, the premise of a foam pit is practically the same in all scenarios, however, they can be used in so many different types of sports and leisure activities.
Our subsidiary company Gym Pit Foam, has been supplying quality pit foam to many happy customers for years now. We've not only supplied foam pit foam to customers in the UK, customers from overseas have also approached us seeking our expertise. But why should you invest your hard earned cash in a foam pit? We're going to explore the reasons why.
Everybody Loves Foam Pits
Even the most hardcore of Scrooges can't resist a smile when presented with the prospect of flinging themselves into a foam pit. There's nothing quite like being able to abandon our primal instincts to protect ourselves from injury and simply letting loose. Jump, flip, spin or cha-cha into a foam pit, it really doesn't matter, as long as you're having fun. Foam pits are great fun for people of all ages. They're a fantastic selling point for any business and are guaranteed to ensure returning custom.
Foam Pits Are Safe
Much safer than a solid floor. It's very much unlikely that you'll ever break a bone in foam pit foam. Injuries that occur within your business are never great for your company image; even if you have gone to great lengths to prevent it. If you happen to own a leisure business, chances are that you're going to attract the occasional daredevil. Aside from wrapping them head to toe in bubble wrap, foam pit foam is a great way to keep customers safe from injury. They can still attempt insane stunts and you don't need to worry about anybody getting hurt; everybody's happy.
Our Foam Pits Are Fire Retardant
All the pit foam we sell adheres to and exceeds UK Fire Safety Regulations. If you are considering investing in a foam pit, make sure that you're purchasing quality pit foam. Pit foam purchased from overseas, for example, does not uphold the same standards of UK safety. Chances are if you choose to purchase pit foam from overseas, it will be of cheap quality and will not be fire retardant.
If a fire did happen to break out in your establishment, a foam pit that is not fire retardant will be the first thing to go up in flames. What's more, if your insurance company finds out that you haven't used fire retardant pit foam, they may refuse to pay out. You can't put a price on safety, make sure you invest in a high-quality foam pit.
Purchase a Foam Pit From Gym Pit Foam Today
Visit Gym Pit Foam, for all your pit foam needs. We stock a wide variety of pit foam suitable for a range of applications. You can even use our online calculator in order to determine precisely how much pit foam you'll need. If you have any enquiry, our team of foam pit experts are always more than happy to help. Simply contact us directly and we'll guide you through the entire process.