Caravan Cushions, Caravan Mattresses & Motorhome Foam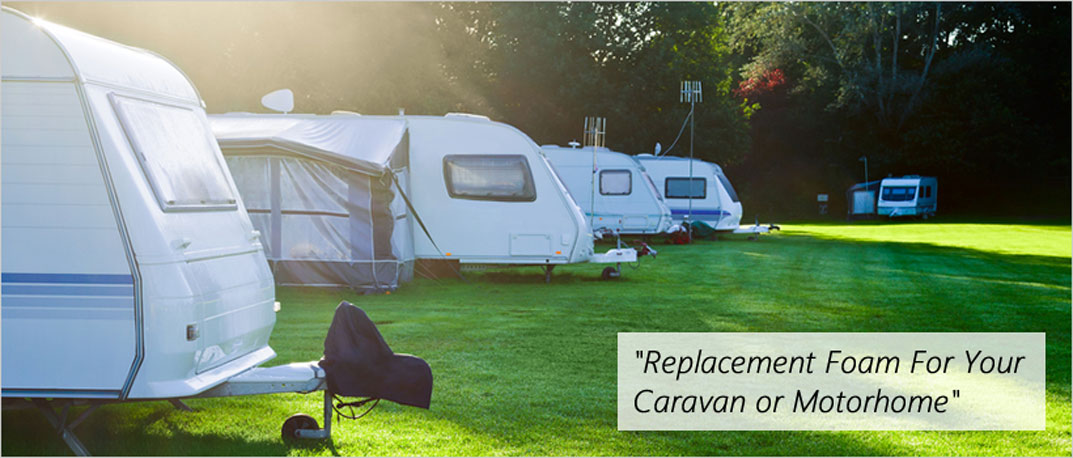 Custom Caravan Cushions Made To Size
GB Foam Direct have been creating custom caravan cushions and motorhome cushions cut to size for over 40 years. We are one of the most experienced companies in providing replacement foam for people with caravans and motorhomes. Whether you require a total overhaul of foam and furnishings, or simple repairs and replacements. If it's new caravan cushions or mattresses you need, we can help you every step of the way.
We can provide everything from the initial foam design to the supply of finished products. If you can't find what you are looking for from the list below, you can always view our full range of foam cut to size shapes.
Order Caravan & Motorhome Foam Cut to Size -
Step 1

1. Select Foam Shape Below
Choose which shape most closely matches the type of Caravan Cushion or Motorhome Mattress you are looking to replace. Cant find the exact shape you are looking for? Why not view our full range of foam shapes.
Why Choose GB Foam For Your Foam Cut To Size?
Our factory is equipped with the latest CNC cutting technology and throughout the years we have employed the most talented freehand foam cutters in the industry. Many members of the team have worked for the company for several decades and their attention to detail and quality control is something that only comes with years of knowledge and experience.
We have many customers who started with us in 1976 and are still working with us today, which we like to think reflects on our vision to be the most dynamic foam converter in our industry. For us no job is too big or too small. We offer the same level of service and delivery whether you are a retail customer ordering one piece of foam from home, or a large manufacturer ordering daily.

40 Years In BUsiness
GB Foam have been offering foam cut to size from our factory since 1976.

Hand Made In THe UK
We employ the most talented freehand foam cutters in the industry.

ISO 9001 Quality
Our team work to the ISO 9001 quality standards to guarantee only the best

Super Fast Delivery
All orders placed before 11:30am will be despatched for next working day delivery

5 Year Guarantee
Our foam comes with a 5 year guarantee against faults in manufacture.

Flame Retardant
Our entire range of foam exceed UK safety and flammability standards.
Love your Caravan & Motorhome Foam!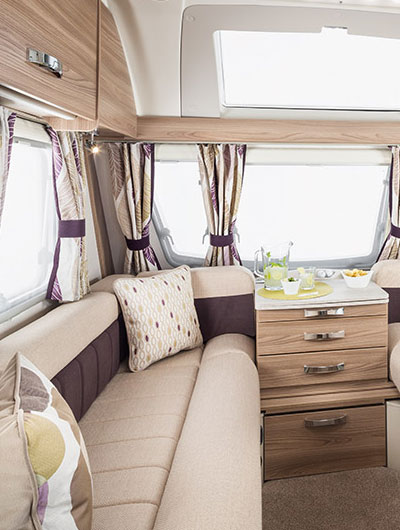 The foam cushions we can make for you can be cut to any shape or style and will be made to your personal comfort requirements. We can take your old, worn out and unusable furniture fillings and replace it with excellent quality, long lasting foam that will not only meet current health and safety requirements but will last and provide you with years of quality and comfort.
It's easy to get your replacement foam cushions or mattresses, just have a look at this checklist, think about your requirements, and then contact us:
Have I chosen the type of foam I require? If not you can always use our online foam calculator to select it for you
Have I got all the right measurements and dimensions I need? Why not pick one of our simple templates and let the foam calculator do the rest for you
What sort of finish do I need? Do you need stockinette and Dacron?
Do I have any other requests or requirements? When do you need your order to arrive, select a specific day for delivery
Caravan Cushions and Caravan Mattresses

Get Prepared With Caravan Cushions and Caravan Mattresses
Have you recently purchased your first caravan? Or are you a veteran of the caravan lifestyle? Whether you're experiencing caravan life for the first time, or you've been a part of it for donkey's years, the best caravan cushions and caravan mattresses are a must. If you've never stayed in a caravan before, you're going to need to make sure you're properly prepared. This ranges from everything such as having the right toiletries to making sure you've packed your wellies (British weather permitting). However, one thing for us shines out above all else, and that's making sure that you're staying in comfort.
Why Buy Replacement Caravan Cushions and Caravan Mattresses?
Chances are, that the new caravan you've just purchased, isn't equipped with the best caravan cushions and caravan mattresses. Second-hand caravan cushions and caravan mattresses may be worn out, whilst brand new stock ones may be of inferior quality. In order to get the ultimate level of satisfaction from comfort, you should consider upgrading your caravan's upholstery.
Here at GB Foam Direct, we are able to offer a complete foam overhaul for your caravan. We are able to provide everything you'll need, ranging from the initial foam design to the final foam product.
You may have owned your caravan for a while. It's been well used and well loved. Unfortunately now, the caravan's cushions and mattress are starting to wear out. That's not a problem! We're able to offer you entirely new foam cushions and mattresses to replace those worn out ones.
Simply follow the five simple steps as outlined on our homepage. It's easy to do so and shouldn't take you longer than ten minutes to complete. Before you know it, your order will be with you; just in time to hit the open road.
Caravan Cushions and Caravan Mattresses for Caravan Parks
If you own a caravan park and want your guests or residents to be comfortable, then you should certainly consider upgrading your caravan cushions and caravan mattresses whenever possible.
A comfortable environment is believed to significantly increase customer satisfaction levels. Alternatively, an uncomfortable environment is believed to dramatically lower levels of customer satisfaction.
A good place to start is by upgrading your caravan cushions and caravan mattresses. On average, Brits alone spend an estimated £2 billion on caravan holidays each year. Ensuring that your caravans are the most comfortable they can be, is a great way to attract prospective customers.
If you wish to purchase caravan cushions and caravan mattresses in bulk quantities for your business, feel free to contact us directly. We're able to offer even greater rates to customers purchasing from us in bulk. What's more, our team of experts will gladly offer you advice in regards to the best foam types and services to suit your needs.
Caravan Cushions – How To Upgrade Them

Bring Your Caravan Into the 21st Century.
Recently bought a second-hand caravan that's looking a little worse for wear? Perhaps your present caravan could do with a makeover?  Maybe you're searching for a summer project to sink your teeth into? Whatever the reason, upgrading your caravan cushions should be among the top of your priorities.
Upgrading your old caravan cushions will help bring it into the 21st century. No more stains, no more outdated fabric and most importantly, no more substandard caravan cushion filling.
The Benefits of Upgrading Caravan Cushions.
If you're planning to upgrade your caravan cushions, then you've made a very wise choice indeed. Statistics indicate that there are approximately 1 million touring caravans, motorhomes and caravan holiday homes in the UK alone. Britain's caravan club alone has roughly 850,000 members and many more take caravan holidays outside of this club. This leaves the potential for a vast number of caravans that require upgrading and even more holidaymakers sitting uncomfortably.
More than 51 million nights are spent in caravans each year. That's a lot of nights! If we as a country are going to spend the equivalent of 36 billion minutes every year in caravans then we need to do so in comfort. There's no better solution than upgrading your caravan cushions with quality foam from GB Foam.
How Can I Upgrade My Caravan Cushions Foam?
Here at GB Foam, we specialise in quality foam cut to size. This means that we can provide foam for any job or task, regardless of the shape or size. All you need to do is follow the five simple steps on our caravan cushion foam page.
Step one is to choose your foam shape. We provide numerous standard foam shapes, whilst also offering custom shapes for more unique jobs
Next, you'll need to accurately measure your caravan cushions. Simply remove the cushions from the outer casing and take accurate measurements of the length, width, and height. You can input your measurements in mm, cm or inches.
Step three is the fun part, selecting your caravan cushions foam! Here at GB Foam, we stock a wide variety of foam grades. These range from comfy budget foam to amazingly soft, luxury memory foam. Choose wisely! Remember how many minutes we collectively spend in caravans.
Step four allows you to select additional add-ons. Adding stockinette and dacron, for example, will allow you to slide cushions into the outer casing more easily.
The final step is to place your order. Place your order before 11:30 am and your foam will be dispatched for next working day delivery!
Now You've Got foam for your Caravan Cushions!
Before you know it, your delivery of foam will have arrived ready to help create your quality caravan cushions. If you're planning on upgrading your caravan cushions outer casing, GB Foam recommends installing a zip for ease of access.
Make sure to pick a fabric that not only looks good but is hard wearing and comfortable to sit on. You don't want to go ruining the quality of your new cushions with shoddy fabric.
Also, if you don't fancy upholstering the cushions yourself, there are plenty of people and companies out there that can help you. A seamstress, for example, may be able to help you. Check your local launderette to see if they offer any upholstery services.