Order Foam Cube Cut To Size -
Step 3

3. Select Foam Type
We stock ten different grades of foam; from soft budget foam to luxury memory foam.
Select Foam Grade Below
Popular High Density Sofa Foam
Not sure what type of foam to choose? Let us help you. Select your foam use:
Order Foam Cube Cut To Size -
Step 4

4. Additions
For sofa cushions we recommend adding dacron & stockinette to make it easier to slide into the original cover and add loft.

Stockinette
You should always fit stockinette to your order. In simple terms Stockinette makes it much easier to slide the foam in an out of your cover and will not only reduce creasing of fabric but prevent premature wear to both the foam and the cover - ensuring your cushions retain their shape better and last longer. Read More About Stockinette (Please Note Maximum Width for Stockinette = 135cm)

Dacron
Dacron will add loft to your cushion and provide a full fitting cushion, with no excessively sagging covers. Dacron is bonded directly to the top and bottom of the foam (non-reversible shapes such as curved & caravan cushions do not have dacron on the bottom). Please note that adding dacron will increase the depth by approximately 1cm on any side that it is fitted, consider this when inputting your measurements. Without stockinette fitted the Dacron will rub directly against the cushion cover fabric and can sometimes become detached. Fitting stockinette prevents this from happening. Read More About Dacron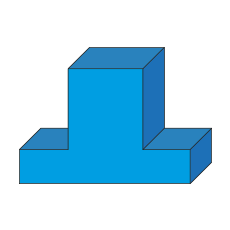 You have chosen: T Shaped Sofa Foam