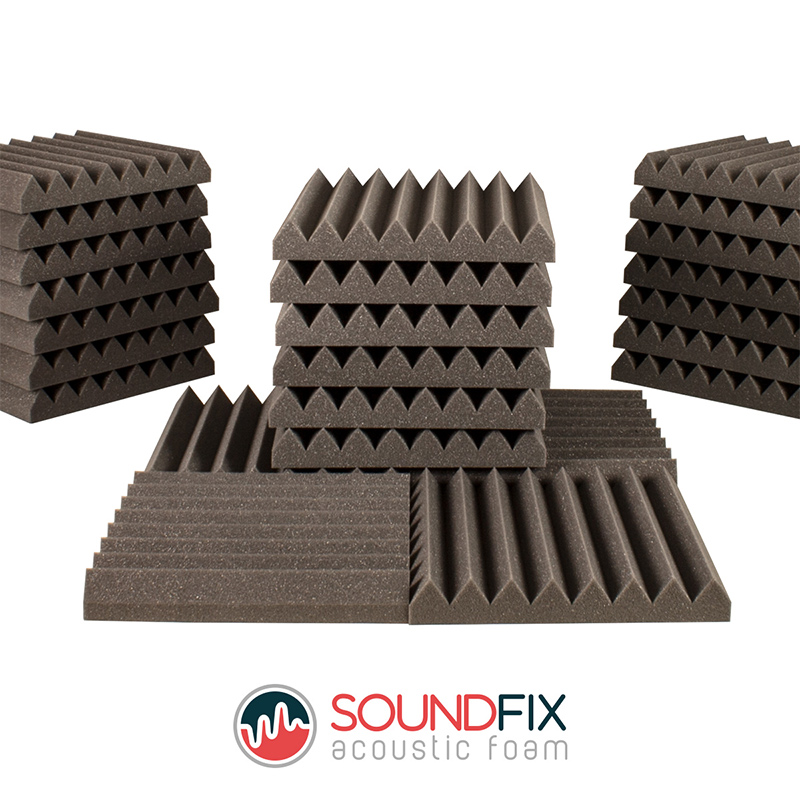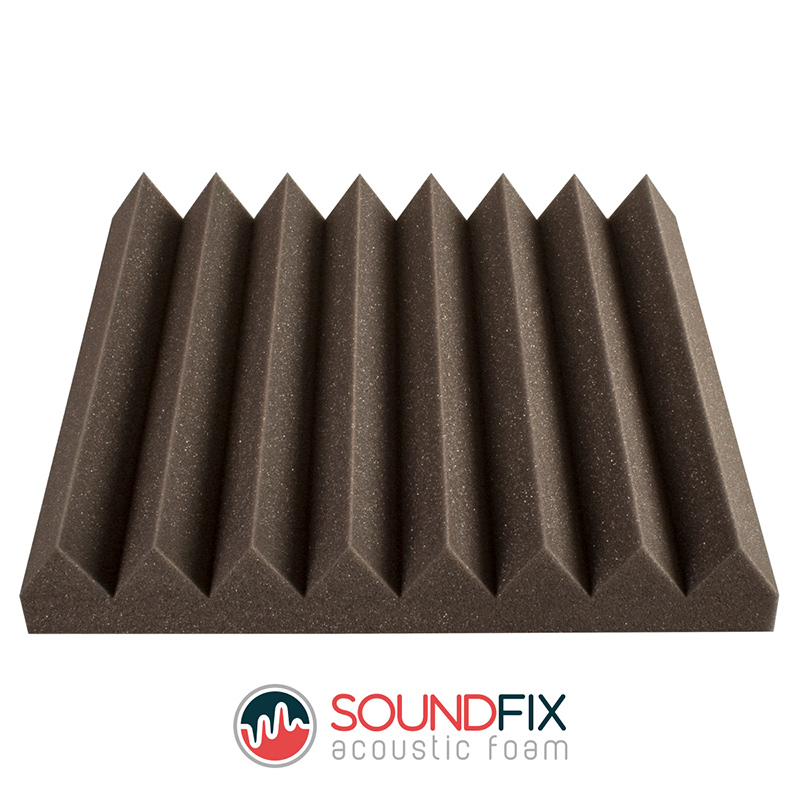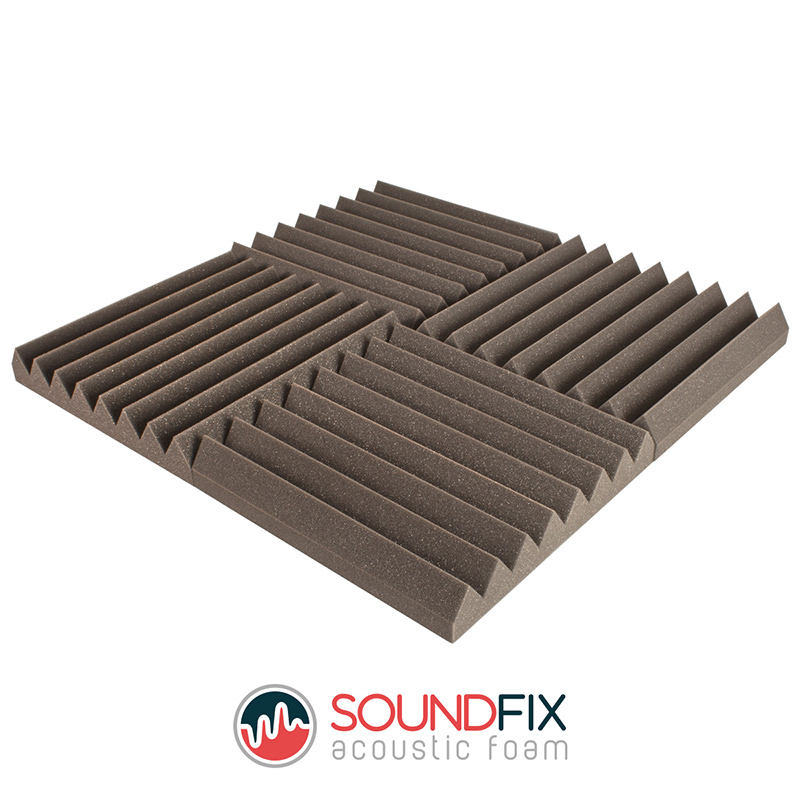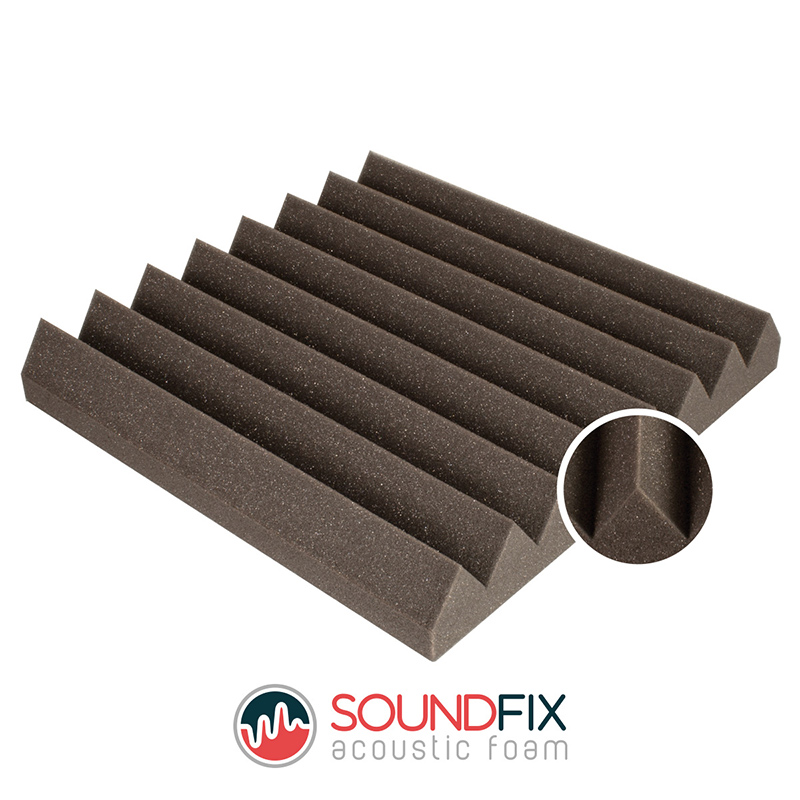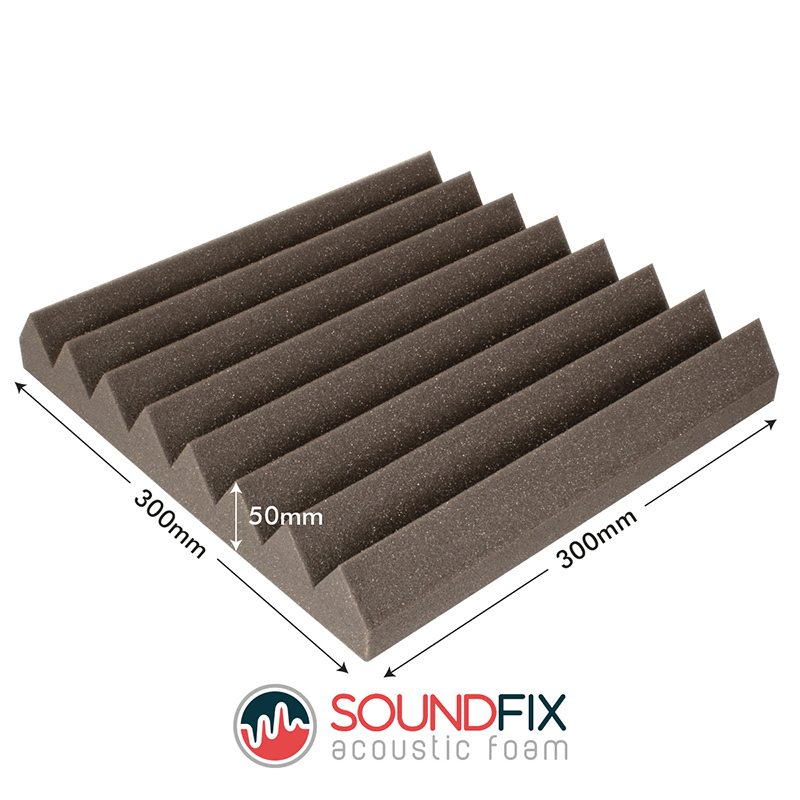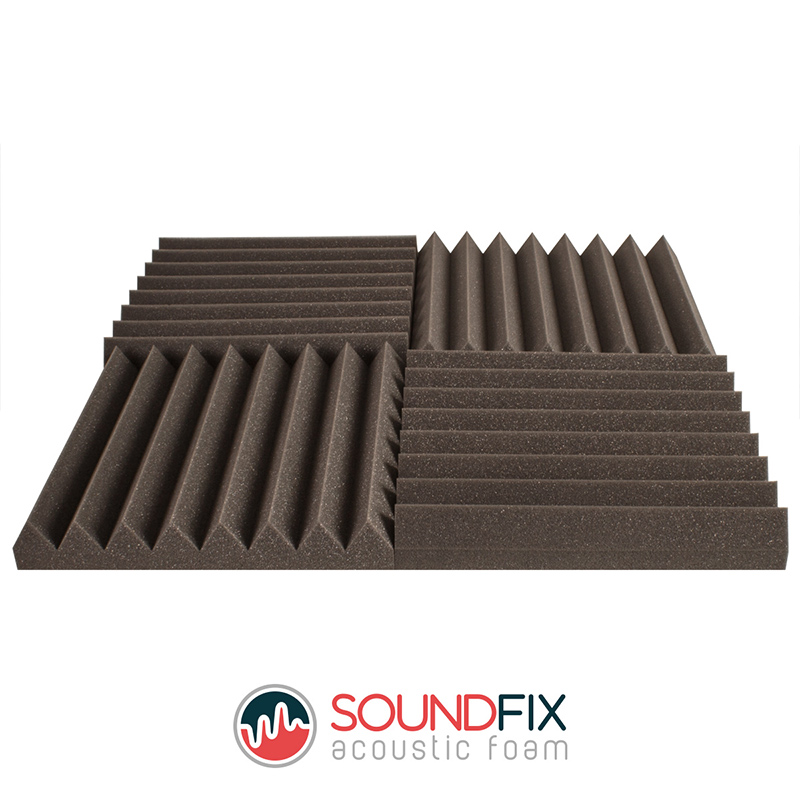 SoundFix Acoustic Foam Tiles – Wedge
Seize control of unwanted interference with these state-of-the-art acoustic foam tiles from Soundfix, the UK's leading supplier of acoustic foam to Europe.
• Individual tiles measure 300mm x 300mm and are 50mm thick. Each pack includes acoustic tiles which cover an approximate surface area of 1sqft each.
• Acoustic foam tiles are suitable for balancing mid to high frequency soundwaves.
• NRC rating of 0.85. Our thick 50mm tile has a 20mm base and 30mm rise making them super effective for reducing reverberations and echoes within the room.
• High performance CNC cut, peak wedge profiled, polyurethane acoustic foam tiles in Studio Grey. Suitable for acoustic sound control within recording studios, rehearsal rooms, DJ booths, video workrooms, home cinemas and more.
• Fully fire retardant – UL94 approved. Exceeds the UK requirements for schedule 1, part 1 the Furniture and Furnishings (fire) (safety) Regulations 1988 (amended 1989).
• Useful for reducing flutter echoes, standing waves and reflections to improve sound quality. Please note we do not recommend this product for soundproofing purposes.
Acoustic Foam Tiles – Precision Made in the UK
Our state of the art factory in High Wycombe is equipped with the latest CNC cutting technology allowing us to create perfectly accurate acoustic foam tiles again and again at a fraction of the cost of others available on eBay.
Combined with our premium high density polyether acoustic grade foam and unique profile shapes we offer the best quality soundproofing online.
As UK Foam specialists with over 40 years' experience we know everything there is about the various grades of foam out there. Our specialist acoustic foam tile grade is manufactured specially to achieve the optimum sound absorption across the entire frequency spectrum.
The Best Sound Absorption at A Fraction of the Price
These tiles effectively eliminate any high frequency sound wave incident applied on them by creating several deflection surfaces. When the sound waves hit the peaks and valleys of the foam they get deflected in several directions weakening them. The open cell structure of our specially selected foam grades then absorbs the sounds.
Our precise CNC cut valleys are much greater than that of our competitors which helps to trap air within them forming resonant chambers. These chambers broaden the spectrum of absorption in the medium frequency range.
For lower frequency absorption, thicker tiles are required. Very low frequencies for example require super thick blocks of foam to completely absorb the sound incident. However, with correct positioning of our tiles you can greatly reduce the lower frequency distortion.
Improving Standards – While Reducing Costs
By working directly with us as the manufacturer we are able to offer a better specification acoustic foam tile at the same price point as cheaper products. In simple terms we are able to 'cut out the middle man' to provide direct savings to you.
Quality Fire Retardant Acoustic Foam Made to UK Standards
Our acoustic wedge tiles conform to stringent fire tests and are suitable for studios, cinema rooms or anywhere acoustic control is required.
ISO 9001 Quality Acoustic Foam
Our acoustic specialist team work to ISO 9001 quality standards to guarantee only the best acoustic foam leaves our foam factory.
Latest SoundFix Acoustic Foam Tiles – Wedge Reviews
John Wilkins

Acoustic Foam, Found the entire purchase simple from web to collection. Staff were extremely efficient and very friendly.....i opened an account for any future purchases.

Antonio Sarnelli

Number 1 in uk. Thank you very much for everything great service great customer service just brilliant
Related Products
Why Choose GB Foam For Your Foam Cut To Size?
Our factory is equipped with the latest CNC cutting technology and throughout the years we have employed the most talented freehand foam cutters in the industry. Many members of the team have worked for the company for several decades and their attention to detail and quality control is something that only comes with years of knowledge and experience.
We have many customers who started with us in 1976 and are still working with us today, which we like to think reflects on our vision to be the most dynamic foam converter in our industry. For us no job is too big or too small. We offer the same level of service and delivery whether you are a retail customer ordering one piece of foam from home, or a large manufacturer ordering daily.

40 Years In BUsiness
GB Foam have been offering foam cut to size from our factory since 1976.

Hand Made In THe UK
We employ the most talented freehand foam cutters in the industry.

ISO 9001 Quality
Our team work to the ISO 9001 quality standards to guarantee only the best

Super Fast Delivery
All orders placed before 11:30am will be despatched for next working day delivery

5 Year Guarantee
Our foam comes with a 5 year guarantee against faults in manufacture.

Flame Retardant
Our entire range of foam exceed UK safety and flammability standards.