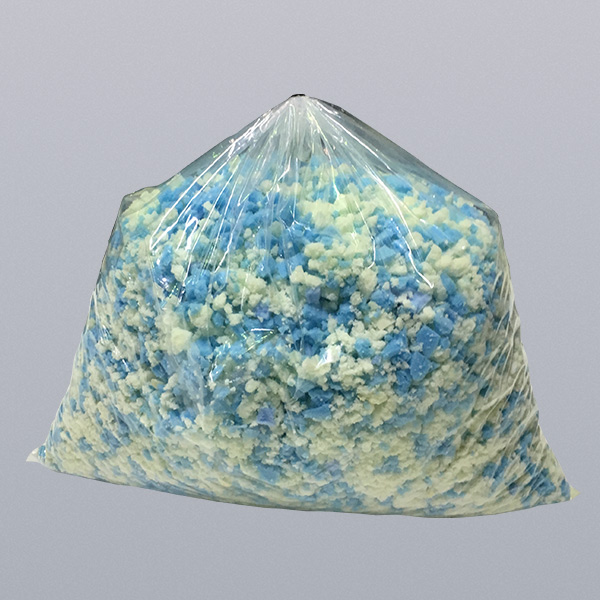 Ultimate Bean Bag Stuffing – Memory Foam 50/50 Mix
GB Foam Direct's 50/50 memory foam crumb ultimate bean bag stuffing, is produced in our factory in High Wycombe from 60 kg/m3 virgin memory foam and high density mixed crumb foam.
This specialist 50/50 blend of foam is made specifically for Bean Bags and cushions giving you the ultimate memory foam comfort with added bounce and loft from the mix foam.
We only crumb brand new foam and all foam supplied will only be the highest quality 60kg/m3 memory foam and >30kg/m3 mixed.
Disclaimer: We only shred fire retardant foam but please note the process of rendering the flame-retardant foam to crumb may affect its flame retardant properties
Please note – the foam crumb supplied will be vacuum packed for easy storage and transport (simply unpeel the shrink wrap package and open the bag inside, the foam will the expand back to its original size)
Latest Foam Cut To Size & Product Reviews
Deborah White

Such a versatile product can do all sorts with it :)

Flora Ward

Super impressed with the amount you receive for the asking price.

Rachel May

Recently filled a bean bag using this and it's so comfortable.

Janet Mendes

5 stars for you love my foam crumb

Sarah Greenway

Came vacuum sealed so looked a bit smaller at first. As soon as you open it you realise how much you get for your money.

Dawn Hyams

Cheap foam in price but big in size and quality.

Verity Britton

All arrived safely can't wait to fill my bean bags.

Karen Maher

Love your foam crumb. Restuffed an old bean bag after it split and spilled beans everywhere.

Katrina Perez

Found the calculator really handy thank you for that :)

Anne Clark

Always keep a bag of foam crumb handy :)

Kadir Rashid

Nice foam crumb.

Lorraine Connor

Great for stuffing bean bags and I like that its made from recycled materials.

Christine Guildford

More than I needed, but good filling.

Lorna Graham

This really is the ultimate bean bag stuffing lol

Kendra Gray

You get your money's worth.

Janet Roper

Plenty of foam for the price. Great :)

Aisha Rana

Good quality foam crumb.

Pam Heywood

Wow, so much foam in these bags. Where to store it all haha!

Fay Gascoigne

Plenty of foam for the money.

Amanda Gray

That's a big bag of foam bits. Looking forward to using this for all sorts.

Patrick Harris

I packed out some old cushions with this and the feel like brand new again. thanks

Harry Ward

Made plenty of new bean bags with this.

Jack Murphy

great for toy repair

Sean Bell

well worth the purchase.

Kathleen Bennett

definitely worth the buy

Alan Williams

Quick and easy delivery, well done

Mark Clark

Good price quick delivery, well done guys

Ashley Peterson

I recently made my own bean bag using this and love it!

Denise Long

Remember to open the bag carefully as I spilled mine lol, a small price to pay for my new awesome beanbag chairs

John Neilson

Great foam, bigger than I expected once it expands! Quick delivery, recommended.

Julie Shaw

Quick and easy ordering. Quite surprised by how much of it there was! Happy!

Sarah Warren

Can't believe how quick it came. Thank you

sally

loads to stuff pillows

Natasha Bourne

Well pleased..cant wait to use

Steven Porter

Great product just right for new dog beds plus plenty left for cushions!

Carol Morgan

Excellent seller, the package arrived very promptly and the product was great

Philip Norton

Really pleased with this. Excellent value for money

Ian gibson

great foam and on time delivery

Kathy James

Arrived very quickly thanks.

Matthew Taylor

Very good service, a pleasure to deal with.

Mike Rudman

Items as described fast despatch thankyou :)

Justin Spink

Arrived within 24 hrs. Well packaged.

Audrey Taylor

Quick and easy. No problems.

Jo Rands

Arrived super fast. Well packaged. Great price.

Graeme Robson

Exactly as described, and many thanks. would use again. A+++

Susan Pinder

speedy. Brilliant !

Tiffany Francois

Great to deal with. Item as described! great product!

Susan Churchill

Great item, thank you

Gary Smith

Perfect, Just as described.

Malcolm Hilton

Excellent product very good quality

Emma Norman

speedy delivery! Highly recommend xx

Andrew Bodey

Very pleased with bag of filling restocked my cushions thank you

Amy Stewart

Wow, I can't believe how much fit into that bag, but made some great new beanbags and still have left over.

Tammy Peterson

Got the kids making their own bean bag chairs with this, fun activity and cheap furniture lol

Rachel Steward

Well worth a buy.

Jane Farnworth

You get a great deal of foam crumb for your money. Need to work out where to put all of it lol.

Sally Sharp

You get plenty for your money which is good.

Rosie Hobbs

Highly recommended company

Dean Vickers

Doggos loved it in the dog bed the Mrs made. Had fun trying to fill it and we have some left over.

Abby Stevens

Thought I'd give this a try over conventional beads and wow what a difference they make.

Scott Harris

Me and some friends filled up an old duvet with your foam crumb to make an UBER beanbag sofa. It looks pretty cool in our Uni flat. Great place to crash after a night out.

Danielle Knight

Comfy and good value for money.

Melissa Bradshaw

This is the best filling for bean bags I've ever used. Who'd have thought it?

Mollie Osborne

Really glad I found this stuff. Much better than the polystyrene beads.

Rosie Sykes

The bag was bigger than I expected. No bother, I'm sure I'll find a use for it. :D

Janice Adams

Filled an old beanbag with this and the difference is night and day

Riley Joynes

So much more than I was expecting for the money! Looks like I am getting a second beanbag :-)

Sharon Norris

Really great filling for bean bags. Made one for my daughter and she loves it. x

Paul O'Neill

Exactly what I was after. Opted for this one over standard mix. The memory foam made a huge difference over the rubbish polystyrene filling I had originally. Totally sink into my giant beanbag now.
Related Products
Why Choose GB Foam For Your Foam Cut To Size?
Our factory is equipped with the latest CNC cutting technology and throughout the years we have employed the most talented freehand foam cutters in the industry. Many members of the team have worked for the company for several decades and their attention to detail and quality control is something that only comes with years of knowledge and experience.
We have many customers who started with us in 1976 and are still working with us today, which we like to think reflects on our vision to be the most dynamic foam converter in our industry. For us no job is too big or too small. We offer the same level of service and delivery whether you are a retail customer ordering one piece of foam from home, or a large manufacturer ordering daily.

40 Years In BUsiness
GB Foam have been offering foam cut to size from our factory since 1976.

Hand Made In The UK
We employ the most talented freehand foam cutters in the industry.

ISO 9001 Quality
Our team work to the ISO 9001 quality standards to guarantee only the best

Super Fast Delivery
All orders placed before 11:00am will be despatched for next working day delivery

5 Year Guarantee
Our foam comes with a 5 year guarantee against faults in manufacture.

Flame Retardant
Our entire range of foam exceed UK safety and flammability standards.