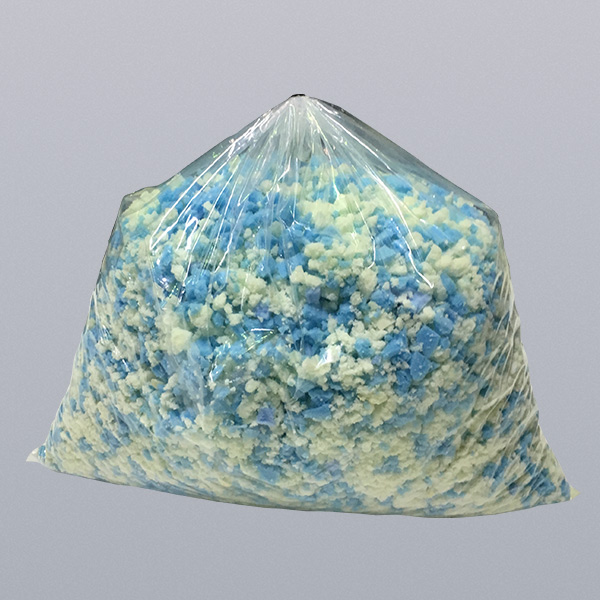 Ultimate Bean Bag Stuffing – Memory Foam 50/50 Mix
GB Foam Direct's 50/50 memory foam crumb ultimate bean bag stuffing, is produced in our factory in High Wycombe from 60 kg/m3 virgin memory foam and high density mixed crumb foam.
This specialist 50/50 blend of foam is made specifically for Bean Bags and cushions giving you the ultimate memory foam comfort with added bounce and loft from the mix foam.
We only crumb brand new foam and all foam supplied will only be the highest quality 60kg/m3 memory foam and >30kg/m3 mixed.
Disclaimer: We only shred fire retardant foam but please note the process of rendering the flame-retardant foam to crumb may affect its flame retardant properties
Please note – the foam crumb supplied will be vacuum packed for easy storage and transport (simply unpeel the shrink wrap package and open the bag inside, the foam will the expand back to its original size)
Latest Ultimate Bean Bag Stuffing – Memory Foam 50/50 Mix Reviews
Abby Stevens

Thought I'd give this a try over conventional beads and wow what a difference they make.

Scott Harris

Me and some friends filled up an old duvet with your foam crumb to make an UBER beanbag sofa. It looks pretty cool in our Uni flat. Great place to crash after a night out.

Danielle Knight

Comfy and good value for money.

Melissa Bradshaw

This is the best filling for bean bags I've ever used. Who'd have thought it?

Mollie Osborne

Really glad I found this stuff. Much better than the polystyrene beads.

Rosie Sykes

The bag was bigger than I expected. No bother, I'm sure I'll find a use for it. :D

Janice Adams

Filled an old beanbag with this and the difference is night and day

Riley Joynes

So much more than I was expecting for the money! Looks like I am getting a second beanbag :-)

Sharon Norris

Really great filling for bean bags. Made one for my daughter and she loves it. x

Paul O'Neill

Exactly what I was after. Opted for this one over standard mix. The memory foam made a huge difference over the rubbish polystyrene filling I had originally. Totally sink into my giant beanbag now.
Related Products
Why Choose GB Foam For Your Foam Cut To Size?
Our factory is equipped with the latest CNC cutting technology and throughout the years we have employed the most talented freehand foam cutters in the industry. Many members of the team have worked for the company for several decades and their attention to detail and quality control is something that only comes with years of knowledge and experience.
We have many customers who started with us in 1976 and are still working with us today, which we like to think reflects on our vision to be the most dynamic foam converter in our industry. For us no job is too big or too small. We offer the same level of service and delivery whether you are a retail customer ordering one piece of foam from home, or a large manufacturer ordering daily.

40 Years In BUsiness
GB Foam have been offering foam cut to size from our factory since 1976.

Hand Made In THe UK
We employ the most talented freehand foam cutters in the industry.

ISO 9001 Quality
Our team work to the ISO 9001 quality standards to guarantee only the best

Super Fast Delivery
All orders placed before 11:30am will be despatched for next working day delivery

5 Year Guarantee
Our foam comes with a 5 year guarantee against faults in manufacture.

Flame Retardant
Our entire range of foam exceed UK safety and flammability standards.