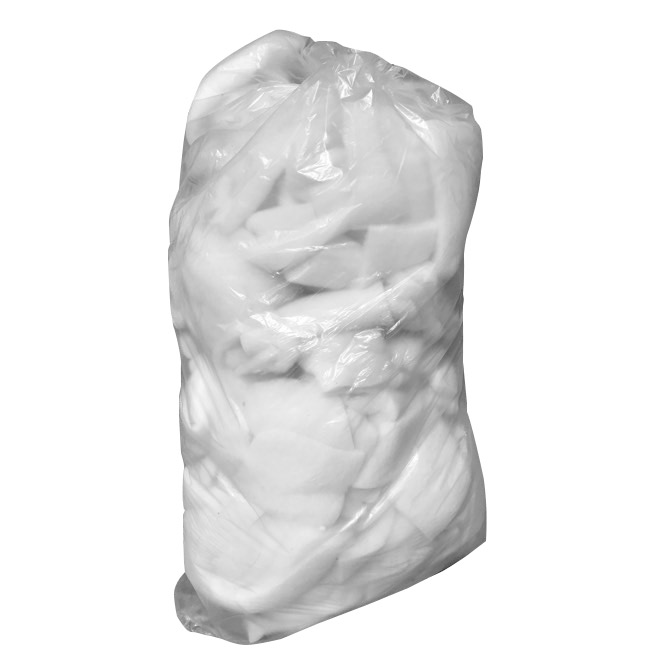 Offcuts of Dacron Fiberfill Wadding
What is Scrap Dacron?
Dacron, otherwise known as fiberfill, polywadding or polyester wadding is a polyester material designed to add loft and additional levels of comfort to cushions. GB Foam Direct purchases Dacron in large rolls and cuts them to size and shape to fit over the foam cushions we sell. This process leaves us with large amounts of fiberfill offcuts which can easily be repurposed and has a variety of uses.
What Can I Use Dacron Scrap For?
Scrap Dacron is ideal for re-stuffing and repairing throw pillows and other support products. It can also be used to fill things such as plush toys and other soft, textile based products. Scrap fiberfill is a highly versatile commodity which can be used for a variety of purposes.
How Much Scrap Dacron Can I Purchase?
We offer this product in offcut bags with approximately 7.5kg of scrap in each, if you'd like to purchase from us in larger volumes please call us on 01494 441177 or email sales@gbfoam.com. We can post your scrap polywadding to you using our courier service, or alternatively you are welcome to collect your order from our factory in High Wycombe. Please note that orders in particularly large volumes may only be applicable for collection only.
As this is a scrap product, our stock levels may vary from month to month. This is due to the nature of the product and may depend on our workload at any given time. If you wish to purchase scrap Dacron from us on a regular basis, please contact us to discuss this arrangement in greater detail.
Do You Stock Any Other Scrap Products?
Being a specialist foam convertor, we naturally end up with large quantities of scrap foam. These foam offcuts are shredded, bagged and sold as foam crumb. We stock a variety of foam crumb mixes. If you would like to purchase this product, please visit our foam crumb page.
Latest Offcuts of Dacron Fiberfill Wadding Reviews
Related Products
Why Choose GB Foam For Your Foam Cut To Size?
Our factory is equipped with the latest CNC cutting technology and throughout the years we have employed the most talented freehand foam cutters in the industry. Many members of the team have worked for the company for several decades and their attention to detail and quality control is something that only comes with years of knowledge and experience.
We have many customers who started with us in 1976 and are still working with us today, which we like to think reflects on our vision to be the most dynamic foam converter in our industry. For us no job is too big or too small. We offer the same level of service and delivery whether you are a retail customer ordering one piece of foam from home, or a large manufacturer ordering daily.

40 Years In BUsiness
GB Foam have been offering foam cut to size from our factory since 1976.

Hand Made In THe UK
We employ the most talented freehand foam cutters in the industry.

ISO 9001 Quality
Our team work to the ISO 9001 quality standards to guarantee only the best

Super Fast Delivery
All orders placed before 11:30am will be despatched for next working day delivery

5 Year Guarantee
Our foam comes with a 5 year guarantee against faults in manufacture.

Flame Retardant
Our entire range of foam exceed UK safety and flammability standards.