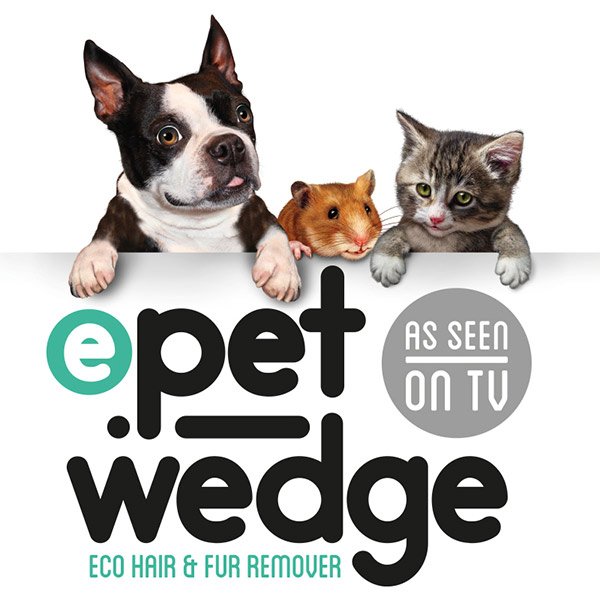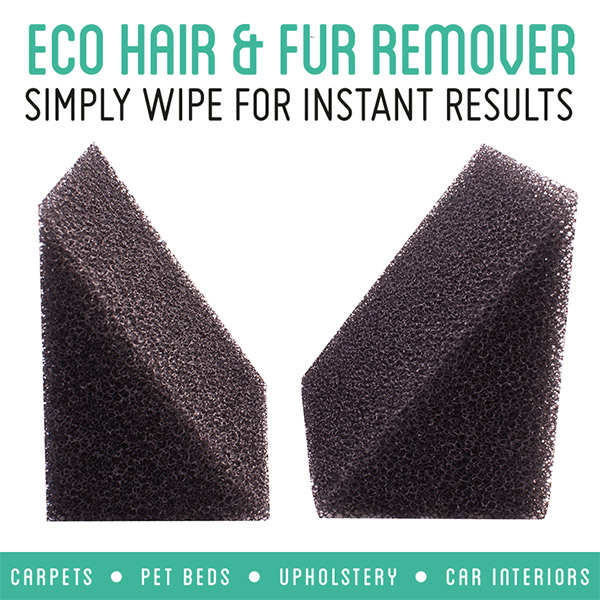 ePet Wedge – Eco Pet Fur Remover
ePet Wedge – Eco Pet Fur Remover Key Features
Removes pet fur and pet hair from carpets, upholstery, pet beds, car interiors and many other hard-to-reach places
The proprietary wedge shape and coating makes it easy to reach into nooks and crevices
Works on all pet hair & fur types
Can be used over and over – easily clean with water
Made from non-toxic specialist foam with reticulation technology which drys quickly
About ePet Wedge – Eco Pet Fur Remover
Does your fluffy bundle of joy tend to leave fluffy bundles of bother all around your house? Pets are great! They're loyal, adorable and excellent company. However with the good, must come the bad and most pets are notorious for leaving fur everywhere they tread. That is of course unless you have one of those creepy hairless cats. If your home has its own winter coat, you'll definitely want to do something about that. A pet fur remover is what you need. An eco pet fur remover to be exact.
The Greatest Pet Fur Remover Ever!
Meet the ePet Wedge! If you've got yourself into a hairy situation, then this piece of ingenuity is here to help. The ePet Wedge is primarily a pet fur remover, but is also great for picking up dust and dirt.
Formed from highly advanced reticulated foam, the ePet Wedge clings onto the fur in all those hard to reach places. Thanks to its wedged design, the ePet Wedge can get into many places that standard pet fur removers cannot. Remove fur from sofa crevasses, against standing furniture, along skirting boards and more!
Easily Clean The ePet Wedge.
Once the ePet Wedge is full of fur, it can be easily removed by hand. Run the ePet Wedge under water to fully clean it and watch it dry in a matter of minutes. Being made from reticulated foam, the ePet Wedge has an open cellular structure, meaning that water passes freely through it. This in turn massively reduces the foams potential to become sodden, allowing it to dry rapidly.
The ePet Wedge comes in packs of two, meaning that you can use one whilst the other is left to dry. No need to stop cleaning, you'll always have an ePet Wedge handy.
The ePet Wedge Works on all Hair Types.
Whether you have a dog, a cat, a rabbit or a hamster, the ePet Wedge picks up all types of animal fur. From long haired Yorkshire Terrier dogs to short haired Russian Blue Cats, the ePet Wedge is the most efficient and reliable pet fur remover on the market.
As with humans, multiple different types of hair can be noted across the broad spectrum of animal breeds. Dogs for example have six distinct coat types. These being – A Smooth coat, Double coat, Wire coat, Curly Coat, Long Coat and Hairless Coat. Naturally dogs with hairless coats do not malt at all, whereas dogs with double coats will shed more often than usual.
Dogs such as Huskies, Border Collies and Rottweilers all have double coats and require much more fur maintenance. Used regularly, an ePet Wedge will help to collect up the fur which your pet sheds, resulting in a much cleaner living environment.
The Pet Fur Remover You've Been Searching For.
Pets spread so much joy, which is great! However, they can also spread a lot of fur around, which isn't so fantastic. With an ePet Wedge to hand, your little hairball doesn't need to be a burden to domestic cleanliness. Purchase yours today.
Latest ePet Wedge – Eco Pet Fur Remover Reviews
Jane

The Pet Wedge is an excellent little product - 3 cats so will use all the time on the furniture plus its amazing on the stairs - picks up hairs brilliant! - quick and easy. :-)

Cameron Holland

Amazing product! Done an amazing job of picking up my cats fur. I love the wedge shape! I can get into all the places that many other fur removers can't.
Related Products
Why Choose GB Foam For Your Foam Cut To Size?
Our factory is equipped with the latest CNC cutting technology and throughout the years we have employed the most talented freehand foam cutters in the industry. Many members of the team have worked for the company for several decades and their attention to detail and quality control is something that only comes with years of knowledge and experience.
We have many customers who started with us in 1976 and are still working with us today, which we like to think reflects on our vision to be the most dynamic foam converter in our industry. For us no job is too big or too small. We offer the same level of service and delivery whether you are a retail customer ordering one piece of foam from home, or a large manufacturer ordering daily.

40 Years In BUsiness
GB Foam have been offering foam cut to size from our factory since 1976.

Hand Made In THe UK
We employ the most talented freehand foam cutters in the industry.

ISO 9001 Quality
Our team work to the ISO 9001 quality standards to guarantee only the best

Super Fast Delivery
All orders placed before 11:30am will be despatched for next working day delivery

5 Year Guarantee
Our foam comes with a 5 year guarantee against faults in manufacture.

Flame Retardant
Our entire range of foam exceed UK safety and flammability standards.