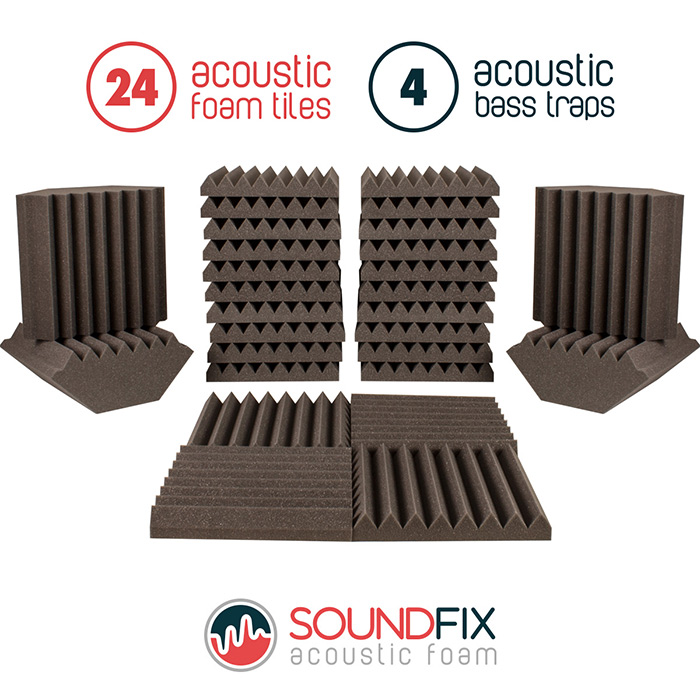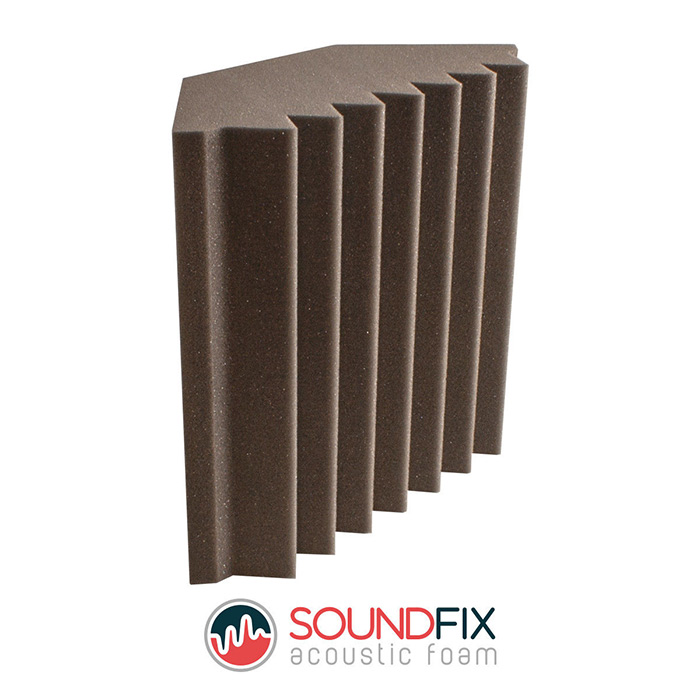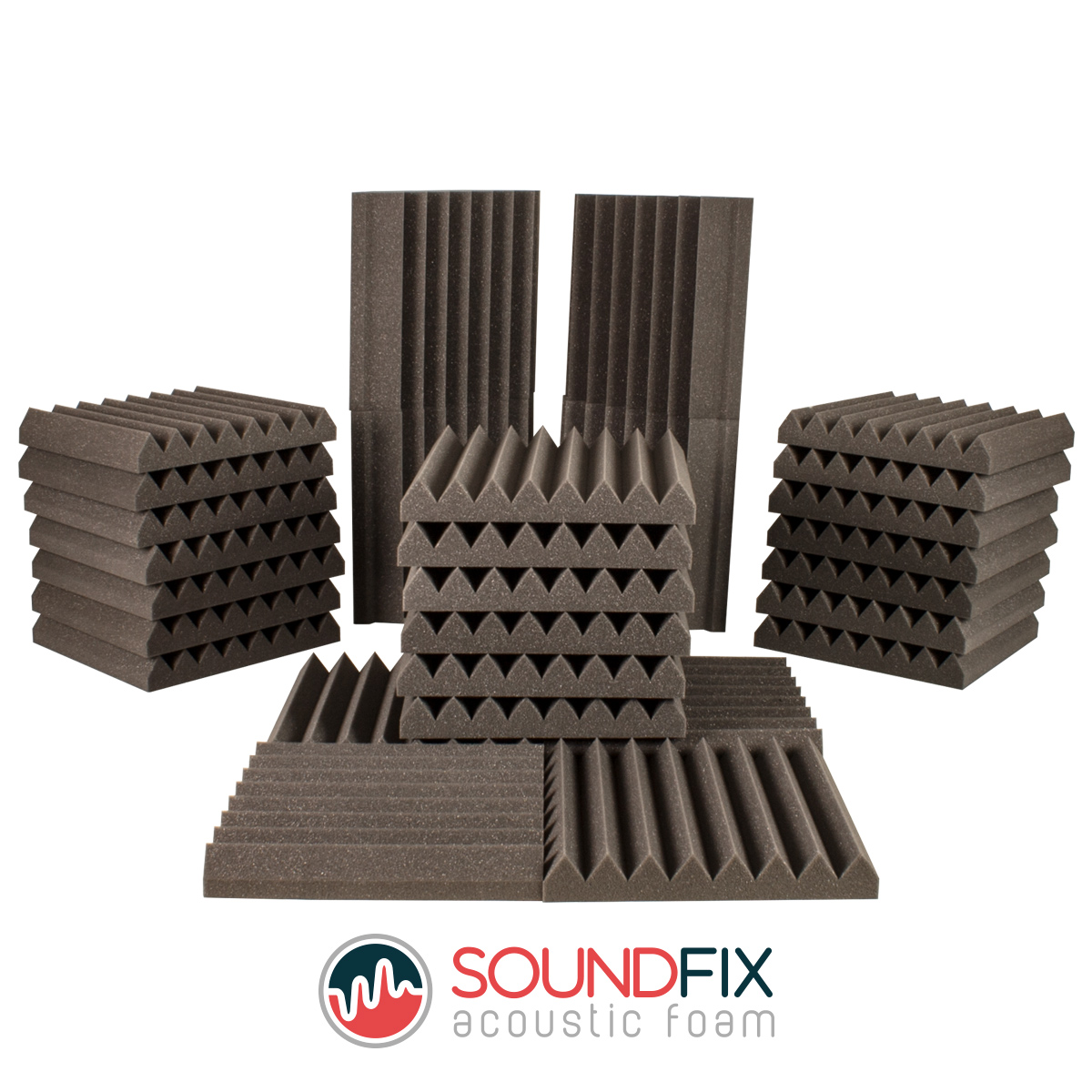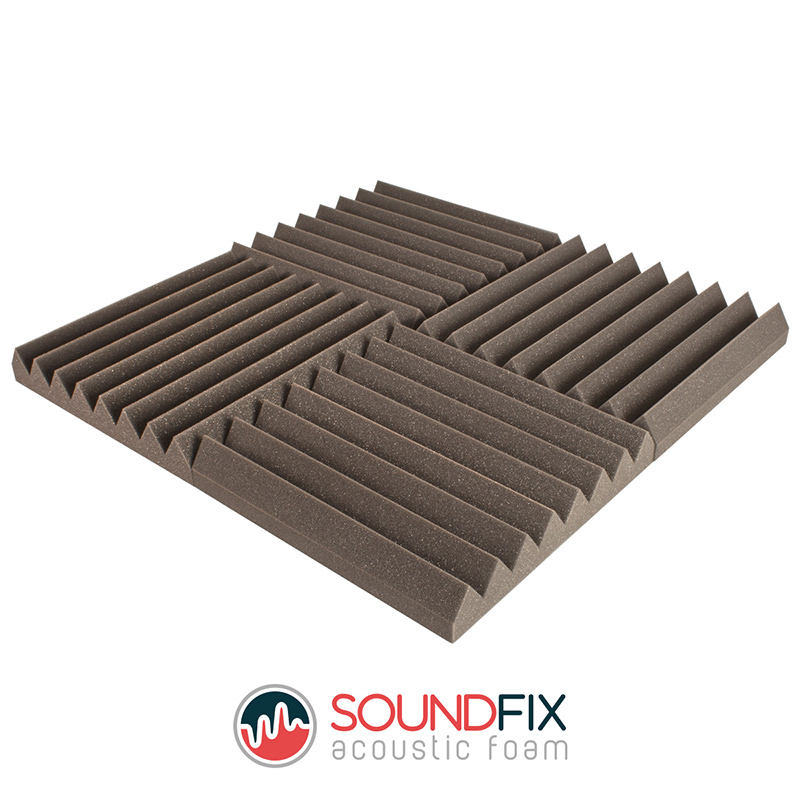 Acoustic Treatment Kit – Sound Dampening Acoustic Foam Tiles & Bass Traps
SoundFix Acoustic Treatment Kit
The SoundFix Acoustic Treatment Kit contains everything you need to control sound waves from low to high frequencies. Whether you're building your own recording studio or setting up a home cinema, this is the acoustic treatment kit for you.
Each acoustic treatment kit contains a mix of bass traps and acoustic foam tiles (see dropdown menu for details).
Suitable for balancing a full spectrum of sound waves from low to high frequencies.
Our acoustic foam has an NRC rating of 0.85. Our acoustic treatment kits absorb up to 85% of sound wave energy.
CNC precision cut acoustic foam panels and bass traps in a wedge design.
Suitable for use in a variety of rooms including home cinemas, recording studios, rehearsal rooms, videography rooms and more.
UL94 approved. All our acoustic foam exceeds UK Fire Safety regulations.
Please note that this product should not be used purely for soundproofing rooms. Acoustic foam absorbs a large majority of sound wave energy but is not fully soundproof.
SoundFix acoustic foam products are manufactured to ISO 9001 standards and are UL94 approved; they exceed UK Fire Safety Regulations.
Kit sizes available in 8 tiles x 4 traps, 16 tiles x 2 traps, 24 tiles x 4 traps or 24 tiles x 6 traps.
Why You'd Need a SoundFix Acoustic Treatment Kit
Our acoustic treatment kit offers protection against sound waves from low to high. Equipped with everything you'll need for a full acoustic treatment including both bass traps and acoustic foam panels. SoundFix acoustic foam panels absorb medium to high sound wave energy, whilst bass traps absorb low frequency sound waves. If you need to improve the quality of live and recorded sound, there's no better solution than this acoustic foam treatment kit.
SoundFix Acoustic Treatment Kits are popularly used within high-end and home recording studios. For a quick and easy fix against the likes of reverb, early reflections, flutter echoes and more, this kit is ideal. Get everything you need in one convenient package and choose from a range of quantities to suit your requirements.
Where Customers Use SoundFix Acoustic Treatment Kits
This product isn't just suitable for use in recording studios. In fact, it can be used throughout a range of spaces to improve the quality of sound. From home cinemas to rehearsal rooms, wherever sound needs fixing, our acoustic foam can help! Simply mount the acoustic panels and bass traps within your room of choice using a spray adhesive (not included).
How Acoustic Foam Works
Acoustic foam is specialised open cell, polyurethane foam. Its unique structure makes it excellent for absorbing sound wave energy and thus improving room acoustics. Acoustic foam softens hard surfaces such as walls and ceilings. When a sound wave reflects off a piece of acoustic foam, a large portion of its energy is absorbed. This prevents sound waves from continuing to ricochet around rooms which in turn helps to prevent sound interference.
Why Choose SoundFix Acoustic Foam?
Our acoustic foam has an NRC rating of 0.85. This means that it has the capability to absorb up to 85% sound wave energy. On average, this makes our acoustic foam 20% more effective than similar products found elsewhere.
We've been making foam products for more than 40 years. We sell to everybody from individuals to large scale corporations. Not only are we the retailer of SoundFix acoustic foam, we're also the manufacturer. This allows us to offer our products to you at a reduced rate. Everything we create is made to ISO 9001 standards. What's more our acoustic foam exceeds UK Fire Safety regulations and is UL94 approved. We offer you the best quality acoustic foam at low cost prices. Buy today and see for yourself why we're Europe's #1 supplier of acoustic foam products!
Latest Acoustic Treatment Kit – Sound Dampening Acoustic Foam Tiles & Bass Traps Reviews
Sam Taylor

Thanks for all your help.

Byron Fowler

What an improvement!

Declan Cameron

Fantastic kit for a quick and easy solution to sound interference. I installed these recently and have already noticed a big change.

Daniel Yates

A good all-rounder.

Jodie Butler

Contained everything I needed to treat my room in one package. Very convenient and fast delivery.

Ben Carroll

Had bad experiences in the past with the quality of acoustic foam, but these have been the best ones I've ever bought. Cut cleanly and clearly of a high quality...

Bobby Howard

Everythign I needed in one handy kit, thanks :)

Sean Collier

Awesome bit of kit!

dean gardner

Great little kit for sorting out the sound issues at home

Luke Banks

Looked at some more expensive options online but thought I would take the risk on this kit. So glad I did. Worth every penny and better than others I sampled which were twice the price elsewhere.

Ben Hawkins

Quick delivery and worked exactly as described. Definitely recommend this kit!

Darryl Mccoy

Ordered 2 of them and it made a huge difference to the acoustics of the room. Might order a few more tiles to test out different placements throughout the room.

Jon Matthews

Best price I found online and Ideal for my needs!!

Casey Wood

Thank you these were just what I needed and they look brilliant up!!

mark lynch

I bought the 24 & 4 kit. Haven't got around to putting it up yet but first impressions are good. The tiles and traps look really high-quality, cleanly cut and nice feel. Ordered in the morning and they arrived the next afternoon so really fast and professional service as well.

Andrew Moss

Really happy with this kit so far, it's actually exceeded my expectations as I wasn't expecting so much of a difference. Everything arrived when it should have. I'll be sure to recommend you.

Harri Tampkin

Convenient and ideal for the job. My order arrived on the specified date and no issues whatsoever.
Related Products
Why Choose GB Foam For Your Foam Cut To Size?
Our factory is equipped with the latest CNC cutting technology and throughout the years we have employed the most talented freehand foam cutters in the industry. Many members of the team have worked for the company for several decades and their attention to detail and quality control is something that only comes with years of knowledge and experience.
We have many customers who started with us in 1976 and are still working with us today, which we like to think reflects on our vision to be the most dynamic foam converter in our industry. For us no job is too big or too small. We offer the same level of service and delivery whether you are a retail customer ordering one piece of foam from home, or a large manufacturer ordering daily.

40 Years In BUsiness
GB Foam have been offering foam cut to size from our factory since 1976.

Hand Made In THe UK
We employ the most talented freehand foam cutters in the industry.

ISO 9001 Quality
Our team work to the ISO 9001 quality standards to guarantee only the best

Super Fast Delivery
All orders placed before 11:30am will be despatched for next working day delivery

5 Year Guarantee
Our foam comes with a 5 year guarantee against faults in manufacture.

Flame Retardant
Our entire range of foam exceed UK safety and flammability standards.