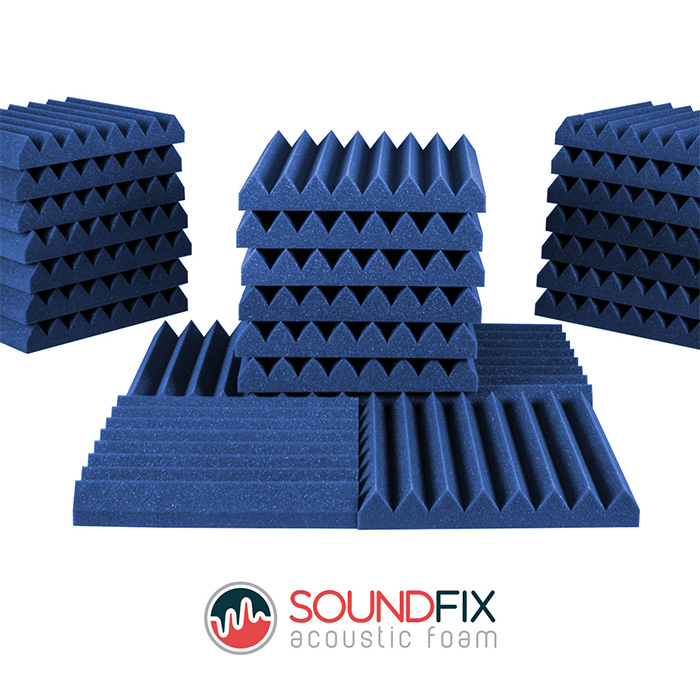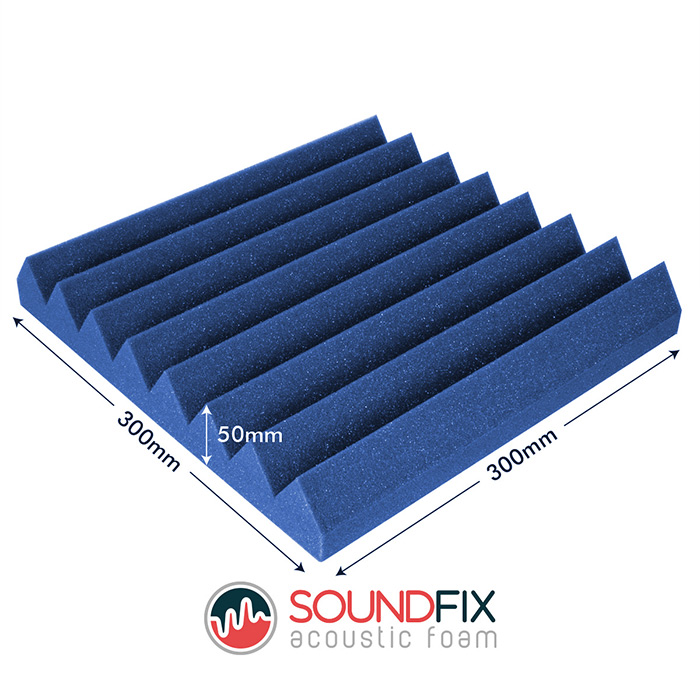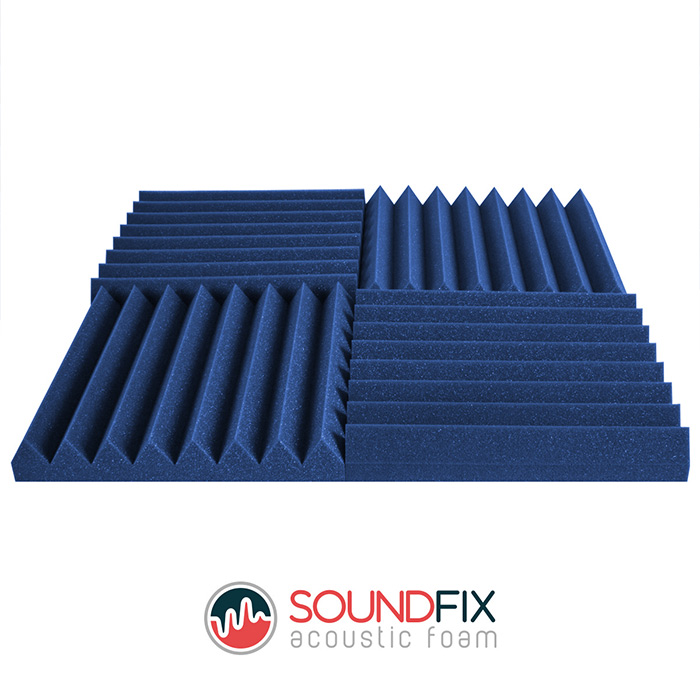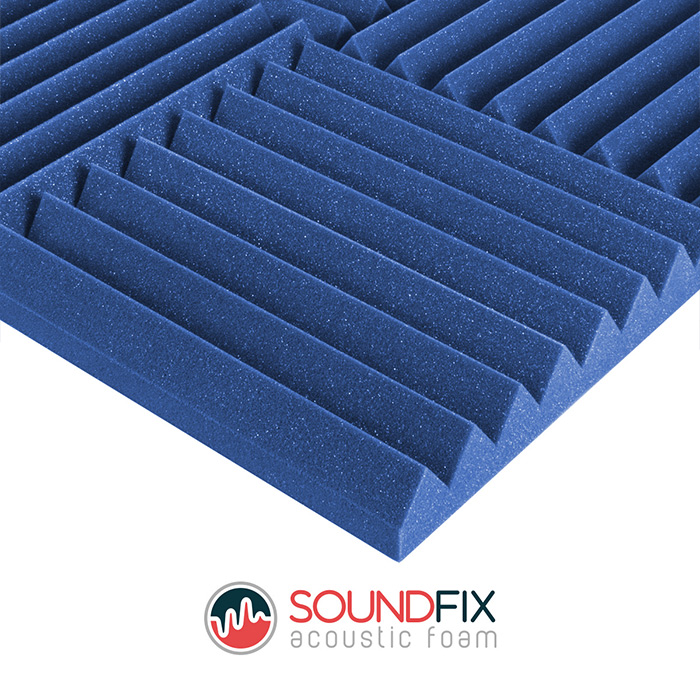 Blue Acoustic Wall Panels – Blue Coloured Acoustic Foam Tiles for Sound Treatment
Blue Acoustic Wall Panels
We're feeling a little blue today… No, not sad. In fact, we're delighted! Delighted to introduce you to these fantastic SoundFix Blue Acoustic Wall Panels. If poor room acoustics are getting you down in the dumps, we've got the remedy. Turn that frown upside-down. With our Blue Acoustic Wall Panels, you'll never need to concern yourself over poor room acoustics again.
Blue Acoustic Wall Panels. Manufactured in the UK.
Treats medium to high frequency sound waves in your room of choice.
With an NRC rating of 0.85 these acoustic wall panels absorb up to 85% of sound wave energy!
Wedge design and CNC cutting using the latest foam cutting technology.
Suitable for use in a range of areas from recording studios to home cinemas.
UL94 approved. This product exceeds UK Fire Safety regulations. Ensure your safety and protect your valuable equipment.
These sounds absorbing blue acoustic wall panels should not be used for the sole purpose of soundproofing. They are designed to absorb sound and improve room acoustics.
Manufactured in the United Kingdom to ISO 9001 standards.
How Our Blue Acoustic Wall Panels Work
Sound waves can be slippery so and so's. When given the opportunity, they bounce around from wall to wall causing all kinds of acoustic havoc. They say seeing is believing. We disagree. We don't need to see a sound wave to know they exist. And not being able to see them doesn't mean we can't control them.
Our Blue Acoustic Wall Panels work to cease interfering sound waves. By softening vulnerable reflection points and making use acoustic foam's specialised cellular structure, we can improve room acoustics. Mount these Blue Acoustic Wall Panels using a spray adhesive (sold separately) within your room of choice and notice the immediate difference!
Where Blue Acoustic Room Panels are Used
These Blue Acoustic Wall Panels are suitable for rooms of all shapes and sizes. From huge commercial recording studios to the modest one you're building in your spare room. Wherever there's a need for sound improvement, this product can help. It's not just recording studios that benefit from this product as well. Customers choose to use our products throughout a variety of rooms used for all manner of purposes. Examples include rehearsal rooms, home cinemas, schools, public transport buildings, event venues and much more!
Why Choose These Blue Acoustic Wall Panels?
This product offers a visual alternative to your classic grey acoustic foam panels. If you're looking for the extra "wow factor" these Blue Acoustic Wall Panels are ideal. Not a fan of the blue colour? Not to worry. We also offer this same product in the colour red.
Every product we create is manufactured to ISO 9001 standards here in the UK. Our acoustic foam is UL94 approved and exceeds UK Fire Safety regulations. What's more, it also has an NRC rating of 0.85. On average this makes it 20% more effective at absorbing sound wave energy than the industry standard.
When you buy from us, you're buying directly from the manufacturer. Not only does this mean you're saving money, you're also receiving over 40 years of foam knowledge and experience. If you've got a question about any of our products, we'll be more than happy to help!
Latest Blue Acoustic Wall Panels – Blue Coloured Acoustic Foam Tiles for Sound Treatment Reviews
Kai Leach

These are the best! BOught with blue bass traps and they're great!!

Leona Watson

Love the colour and they have dampened the sound like we needed.

Max Coles

These acoustic foam panels look great in my office, they really help to add a touch of extra colour and have fixed the sound issues I was having.

Leo Bradley

Great acoustic foam panels at a really good price. Love the blue colour btw, maybe look at doing some more colours in the future for my choice?

Poppy Brown

Overall these are very nice tiles, only gave 4 stars because they cost a bit more than the grey ones.

Dennis Carter

These have made a big difference since I've put them up. The cool colour is a nice bonus as well. Didn't like the idea of using standard grey ones because I thought it might look a little dull.

Peter Phillips

My favourite colour. Great acoustic foam :)

April Sims

Love the colour, looks great on my walls. Arrived on time, safe and secure.

Thomas Sams

Bought these along with the blue traps to go in my office. They fit the colour scheme and really help to liven the place up. Super easy to install as well.

Alan Lewis

Alternated this with the grey. They look so cool together. The blue is really vibrant and goes with the room well.

Ross Lystor

Great results since using these they have made a huge improvement...
Related Products
Why Choose GB Foam For Your Foam Cut To Size?
Our factory is equipped with the latest CNC cutting technology and throughout the years we have employed the most talented freehand foam cutters in the industry. Many members of the team have worked for the company for several decades and their attention to detail and quality control is something that only comes with years of knowledge and experience.
We have many customers who started with us in 1976 and are still working with us today, which we like to think reflects on our vision to be the most dynamic foam converter in our industry. For us no job is too big or too small. We offer the same level of service and delivery whether you are a retail customer ordering one piece of foam from home, or a large manufacturer ordering daily.

40 Years In BUsiness
GB Foam have been offering foam cut to size from our factory since 1976.

Hand Made In THe UK
We employ the most talented freehand foam cutters in the industry.

ISO 9001 Quality
Our team work to the ISO 9001 quality standards to guarantee only the best

Super Fast Delivery
All orders placed before 11:30am will be despatched for next working day delivery

5 Year Guarantee
Our foam comes with a 5 year guarantee against faults in manufacture.

Flame Retardant
Our entire range of foam exceed UK safety and flammability standards.