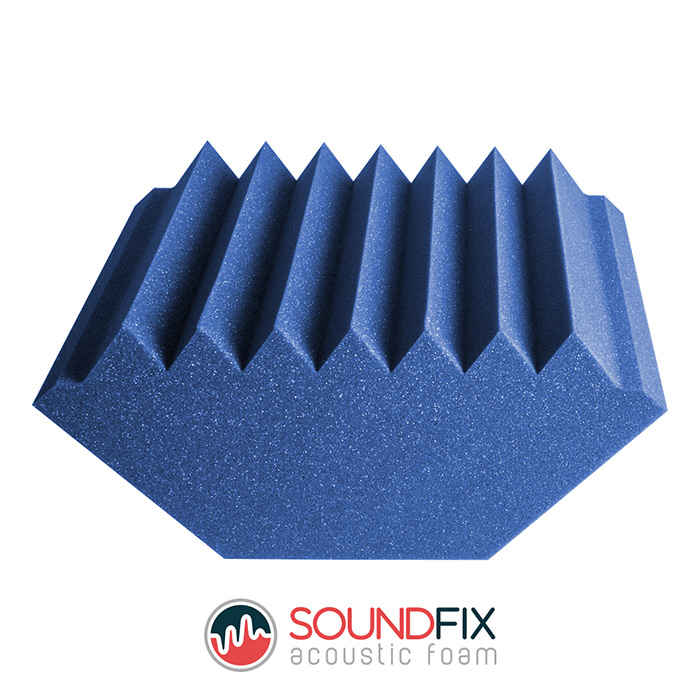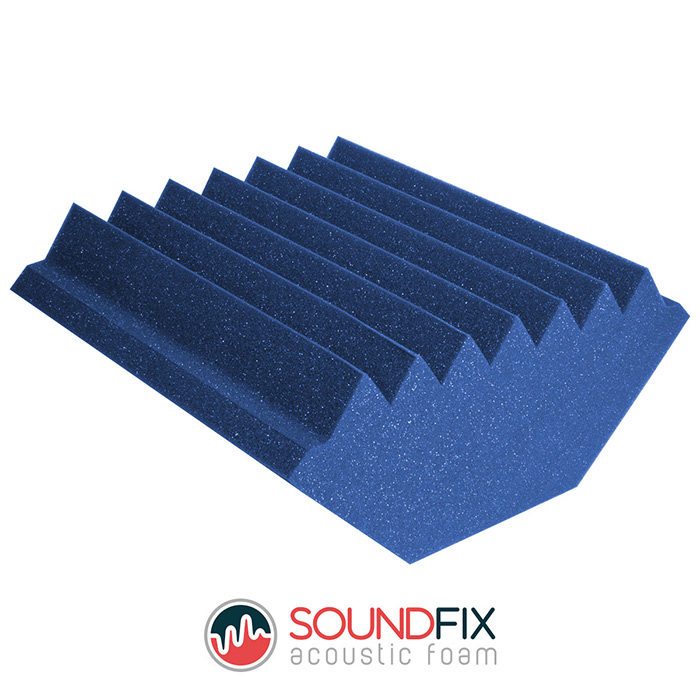 Blue Acoustic Foam Bass Traps – Wedge Corner Bass Trap
Blue Acoustic Foam Bass Traps
Is bothersome bass running your sound quality? You don't need to settle for subpar sound. Our stylish Blue Acoustic Foam Bass Traps help to absorb low frequency sound waves and look great while doing it!
Blue Acoustic Foam Bass Traps. Made in England.
Absorbs low frequency sound wave energy (bass) and prevents indirect sound waves.
Has an NRC rating of 0.85. 25% more effective than the industry standard.
Install within home cinemas, recording studios, clubs, concert halls and much more!
UL94 approved and exceeds UK Fire Safety regulations.
Please note that these Blue Acoustic Foam Bass Traps should not be used for the sole purpose of soundproofing. Use for acoustic treatment to improve sound quality.
Manufactured in house to ISO 9001 standards.
How Our Blue Acoustic Foam Bass Traps Work
When trying to tackle bass, acoustic foam panels don't quite hit the mark. Low frequency sound waves contain much more energy than mid to high frequencies and require thicker pieces of acoustic foam to control. Bass Traps offer the ideal solution for those experiencing interference due to low frequency sound waves. When used alongside our acoustic foam tiles, you can effectively protect your room of choice from frequencies ranging from low to high.
We've manufactured these Blue Acoustic Foam Bass Traps to fit perfectly into room corners. This is where bass naturally travels to, as such, it is important to properly treat these vulnerable areas. Simply mount them using a spray adhesive (not included) and notice the immediate difference. For maximum effect, stack bass traps both horizontally and vertically along room corners, filling the centre with acoustic foam corner cubes.
Where to Use Blue Acoustic Foam Bass Traps
You don't have to have a recording studio to benefit from the Blue Acoustic Foam Bass Traps. In fact, many of our customers use them to acoustically treat a wide variety of rooms. This ranges from home cinemas to concert halls and other event venues. Wherever bass may be causing a problem, this product can offer the solution.
Why Choose These Bass Traps?
These vibrant bass traps offer an aesthetic alternative to regular grey acoustic foam. All of our products are manufactured to the same high standard using only the best materials. Our acoustic treatment products are manufactured in-house to ISO 9001 standards. They are UL94 approved and exceed UK Fire Safety regulations. With an NRC rating of 0.85, you'll struggle to find a bass trap with higher sound absorbing qualities. On average, our acoustic foam is 25% more effective at absorbing sound wave energy than the industry standard.
When you place an order with us, you're buying direct from the manufacturer. We create everything we sell using highly advanced CNC cutting equipment to ensure a pristine finish time and time again. Being the manufacturer of this product allows us to offer it to you at superior rates. There's no "middle-man" which means no additional mark-up.
We've been manufacturing high-quality foam products for more than 40 years and will gladly offer our expertise to you. If you need to know more about one of our acoustic foam products, please contact us. We're always happy to help!
Latest Blue Acoustic Foam Bass Traps – Wedge Corner Bass Trap Reviews
John Morrison

Fantastic :)

Riley Naylor

Happy with my order. Arrived on time and appears to be a quality product.

Daniel Yates

High quality for the price, already noticing improvements in the sound quality. Definitely, buy them with some tiles.

Toby Harper

Brilliant service and a very good product.

Darryl Richards

Very proffesionally made at a price I couldn't argue with. The blue looks really good on these.

Anne Gray

Very well made bass traps at a reasonable price upon comparison elsewhere

Gavin Peters

My favourite colour. Very nice bass traps and a great service received from GB Foam.

Shawn

Really nice bass traps, awesome colour!!
Related Products
Why Choose GB Foam For Your Foam Cut To Size?
Our factory is equipped with the latest CNC cutting technology and throughout the years we have employed the most talented freehand foam cutters in the industry. Many members of the team have worked for the company for several decades and their attention to detail and quality control is something that only comes with years of knowledge and experience.
We have many customers who started with us in 1976 and are still working with us today, which we like to think reflects on our vision to be the most dynamic foam converter in our industry. For us no job is too big or too small. We offer the same level of service and delivery whether you are a retail customer ordering one piece of foam from home, or a large manufacturer ordering daily.

40 Years In BUsiness
GB Foam have been offering foam cut to size from our factory since 1976.

Hand Made In THe UK
We employ the most talented freehand foam cutters in the industry.

ISO 9001 Quality
Our team work to the ISO 9001 quality standards to guarantee only the best

Super Fast Delivery
All orders placed before 11:30am will be despatched for next working day delivery

5 Year Guarantee
Our foam comes with a 5 year guarantee against faults in manufacture.

Flame Retardant
Our entire range of foam exceed UK safety and flammability standards.