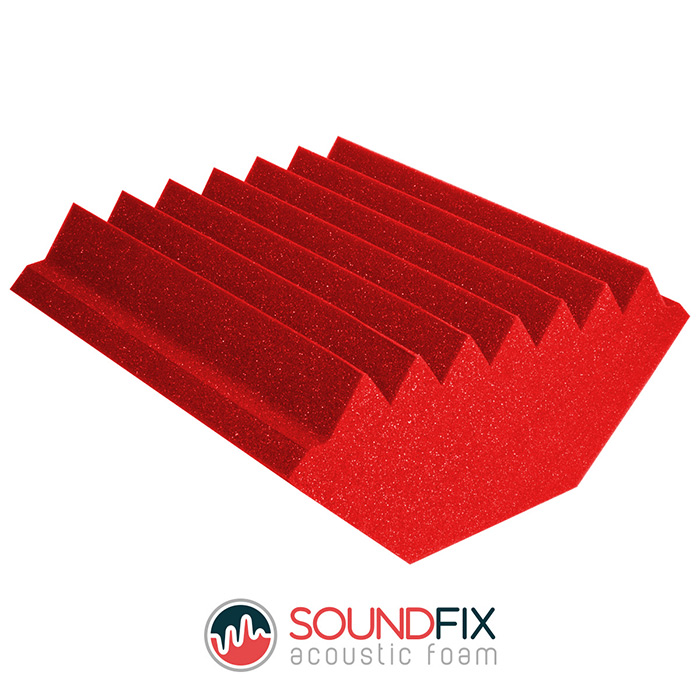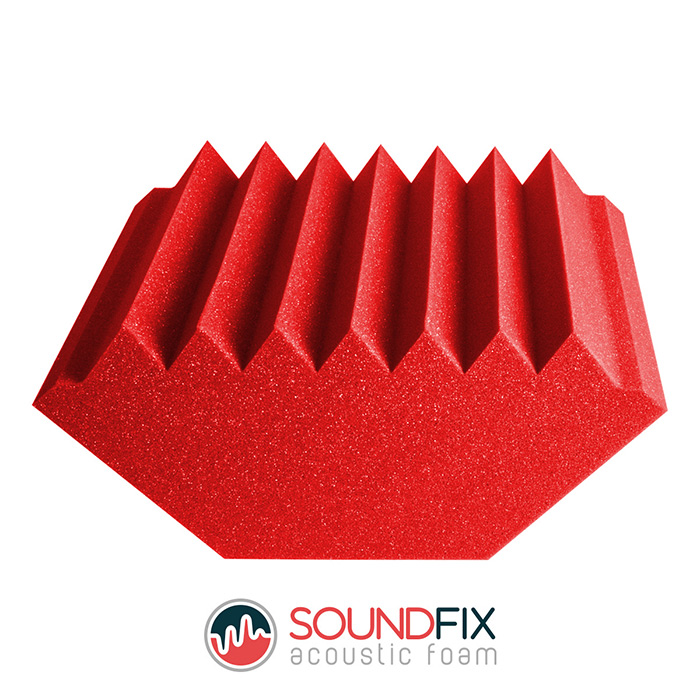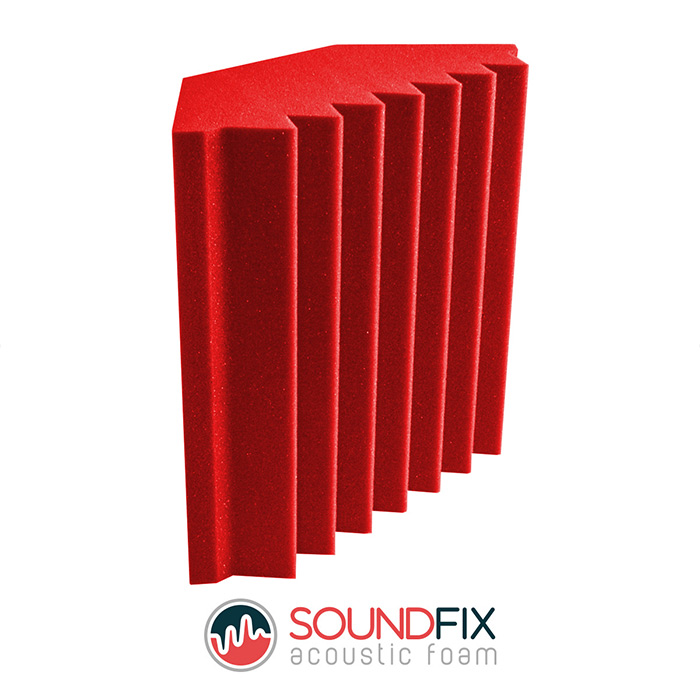 Red Acoustic Foam Bass Traps – Wedge Corner Bass Traps
Red Acoustic Foam Bass Traps
For acoustic protection across the lower spectrum of sound waves, you need bass traps. Traditionally, acoustic foam bass traps come in grey. Whilst we love to keep it traditional every so often, sometimes the occasion just calls for something a little more colourful. Our Red Acoustic Foam Bass Traps provide just that; the same superior sound absorption, with a little more vibrancy!
Red Acoustic Foam Bass Traps. Manufactured within our UK based factory.
Protects against indirect sound waves in the lower spectrum.
NRC rated 0.85! Absorbs up to 85% of sound wave energy.
Can be used in recording studios, home cinemas, public buildings, restaurants, concert halls and much more.
Exceeds UK Fire Safety Regulations. UL94 approved.
Red Acoustic Foam Bass Traps are used for acoustic treatment and should not solely be used with soundproofing in mind.
Manufactured to ISO 9001 standards.
How Red Acoustic Foam Bass Traps Work
Acoustic foam works as a sound absorber. When sound waves travel into the cells of acoustic foam, they lose energy. This helps to prevent sound waves from reflecting and creating indirect sound waves. When a room is properly acoustically treated, most sound which is heard comes from direct soundwaves. This results in greater clarity and quality of perceived sound.
Not all sound waves are the same, some contain more energy than others. Low frequencies (bass) require thicker pieces of acoustic foam to reduce the energy they contain. Our Red Acoustic Foam Bass Traps are designed to fit comfortably into room corners where bass most frequently travels towards.
Where We Use Red Acoustic Foam Bass Traps
Red Acoustic Foam Bass Traps don't just have to be used within recording studios. Our customers find use for them in a wide variety of room types. From home cinemas to event halls and public buildings, wherever there's a need for acoustic treatment our Red Acoustic Foam Bass Traps can help!
They're simple to install as well! All you need a spray adhesive (not included) and a room to mount them in. Install alongside our acoustic foam tiles and corner cubes and notice the immediate effect it has on the quality of sound.
Why Choose These Red Acoustic Foam Bass Traps?
Not only does this product look fantastic, it's also manufactured to the highest calibre using only the best materials. We manufacture everything to ISO 9001 standards and all our acoustic foam is UL94 approved; exceeding UK Fire Safety Regulations. What's more, our acoustic foam also has an NRC rating of 0.85. This means that it can absorb up to 85% of sound wave energy. That's on average 25% more effective than the industry standard of 60%.
If you're looking for acoustic foam with a little extra wow factor, these bass traps are ideal for you. When you purchase from us, you're buying straight from the manufacturer. Not only does this save you money, you're also able to take full advantage of our wealth of knowledge thanks to being in the foam industry for more than 40 years! If you need to know more about our Red Acoustic Foam Bass Traps or another product, just ask!
Latest Red Acoustic Foam Bass Traps – Wedge Corner Bass Traps Reviews
George M

Decent bass traps. I really like the colour.

Howard Cain

Stopped that buttery biscuit bass! Joking aside these have totally pimped out my studio. :-)

Sam Browne

Bought with the red acoustic foam tiles, haven't put them up yet will hopefully get around to it soon. So far so good though.

Ben Mills

Bought with grey tiles to add a couple of focus points around my studio, looks pretty good!

Hollie Brooks

Love the red. Would buy again.

Bryan

Great colour used with the grey tiles to mix things up a little bit. I like the results.

Jack Campbell

Fantastic! Looks great alongside the tiles

Ryan Stanley

Fantastic looks amazing with the red tiles and corner cubes.

Danny Cooper

5 stars! Easy to order and easy to use. Arrived on time as well

James Waters

Great bass traps and I love the colour! They really stand out in my studio.
Related Products
Why Choose GB Foam For Your Foam Cut To Size?
Our factory is equipped with the latest CNC cutting technology and throughout the years we have employed the most talented freehand foam cutters in the industry. Many members of the team have worked for the company for several decades and their attention to detail and quality control is something that only comes with years of knowledge and experience.
We have many customers who started with us in 1976 and are still working with us today, which we like to think reflects on our vision to be the most dynamic foam converter in our industry. For us no job is too big or too small. We offer the same level of service and delivery whether you are a retail customer ordering one piece of foam from home, or a large manufacturer ordering daily.

40 Years In BUsiness
GB Foam have been offering foam cut to size from our factory since 1976.

Hand Made In THe UK
We employ the most talented freehand foam cutters in the industry.

ISO 9001 Quality
Our team work to the ISO 9001 quality standards to guarantee only the best

Super Fast Delivery
All orders placed before 11:30am will be despatched for next working day delivery

5 Year Guarantee
Our foam comes with a 5 year guarantee against faults in manufacture.

Flame Retardant
Our entire range of foam exceed UK safety and flammability standards.